James Ward
Born: 2 Feb 1768, Guilford CT

Marriage (1): Ruth Butler on 8 Sep 1803 in Hartford CT

Died: 25 Oct 1838, Hartford CT
General notes:
Silversmith and jeweler
Events in his life were: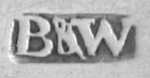 He was a partner in 1793-1797 with Miles Beach in Hartford CT as BEACH & WARD 4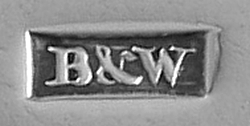 Advertised in the The Connecticut Courant (Hartford CT), 1798-1799, as BEACH & WARD, from their silver- and goldsmith's business south of the bridge in Hartford, offering "silver spoons, viz. Table, dessert, coffee, and Tea, Sugar Tongs, a great variety of plated silver Shoe and Knee Buckles." 3
Advertised in the Hartford City Directory (Hartford CT), 1799, as a "Jeweller and coppersmith, Sign of the Gilt Tea Kettle, near the bridge;
Watches, spoons, swords, penknives, razors &c."
Flynt & Fales:, . 3 A prolific advertiser, ads of WARD, BEACH & GREENLEAF, and WARD, BEACH & HILLDRUP appeared in The Connecticut Courant in May and June, 1800. These appear to have been cooperative advertising rather than partnerships.

He was a partner circa 1802 with Roswell Bartholomew and ? Trott in Goshen CT as WARD, BARTHOLOMEW & TROTT. 4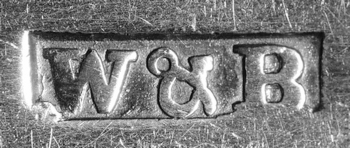 James married Ruth Butler on 8 Sep 1803 in Hartford CT. (Ruth Butler was born on 17 Jul 1776 in Hartford CT and died on 12 Dec 1844 in Hartford CT.)