Miles Beach
Born: 14 Nov 1743, Goshen CT

Marriage (1): Abigail Hopkins on 3 Jan 1771 in Goshen CT

Marriage (2): Sarah Butler on 6 Oct 1783 in Goshen CT

Died: 14 Feb 1828, Hartford CT
General notes:
Silversmith
Events in his life were: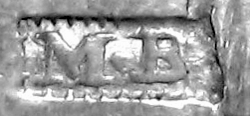 Alternate Mark
This appears to be a portion of the surname mark.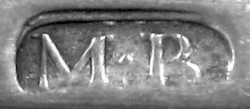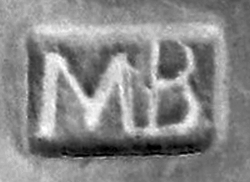 He worked circa 1765-1785 as a silversmith in Goshen CT
Taking time out during the Revolution, when he served as a Major under Washington and Colonel in the Connecticut Militia.
Appointed in 1781 as Tax Reciever in Litchfield CT 3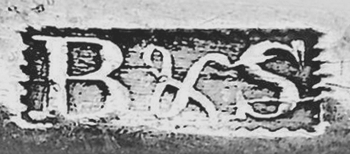 He was a partner in 1785-1788 with Isaac Sanford in Hartford CT as BEACH & SANFORD. 4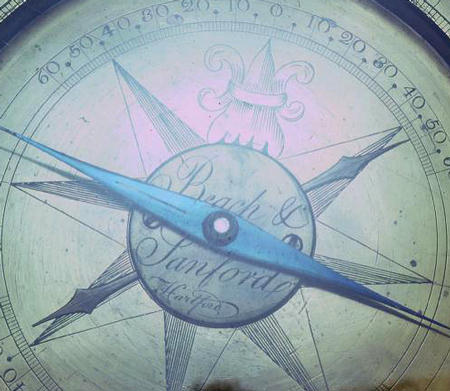 Compass by BEACH & SANFORD, c 1785-1788
Old Sturbridge Village
l: 13"
d: 6 1/2"
Advertised in the Connecticut Courant (Hartford CT), 27 Jun 1785, the new shop of BEACH & SANFORD, about 10 rods south of the bridge on Main Street, carrying on silversmith business, clock- and watchmaking, and engraving. 3
Flynt & Fales:, . 3 Litchfield Historical Society has a letter written by Miles Beach to Major Moses Seymour of Litchfield, dated Hartford, "Ye 4th day of July, 1786," giving reasons for delays in making sugar bowl and creamer; "We had not tools to make them ... I could not get silver . . . when I got home I found Sanford was poisoned and it fell into his eyes ... he has not been able to work. . . .I would have made them but it was work I was not acquainted with. He now says he will do them but as it was not very profitable he was loath to turn by better. . . ."
Advertised in the American Mercury (Hartford CT), 28 Jun 1788, announcing the dissolution of the BEACH & SANFORD partnership.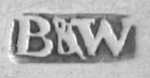 He was a partner in 1789-1797 with James Ward in Hartford CT as BEACH & WARD 4
Advertised in the The Connecticut Courant (Goshen CT), 1789-1799, the firm of BEACH & WARD; their silver- and goldsmith's business south of the bridge in Hartford, "silver spoons, viz. Table, dessert, coffee, and Tea, Sugar Tongs, a great variety of plated silver Shoe and Knee Buckles." 3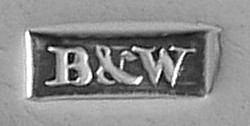 He worked in 1798-1812 as a silversmith in Hartford CT
Listed in the 1799 city directory, as ". . .silversmith and jeweller: clocks and watches, swords and hangers, copper tea-kettles."

He was a partner in 1813-1828 with John Beach in Hartford CT as BEACH & SON 4
Miles married Abigail Hopkins on 3 Jan 1771 in Goshen CT. (Abigail Hopkins was born in 1747 in Litchfield CT and died on 28 Nov 1781 in Goshen CT.)
Miles next married Sarah Butler on 6 Oct 1783 in Goshen CT. (Sarah Butler was born in 1753 in Hartford CT, died on 19 Dec 1840 in Hartford CT and was buried in North Cemetery Hartford CT.)