Roswell Bartholomew
Born: 28 Jan 1781, Harwinton CT

Marriage (1): Sally Johnson Stone on 26 Nov 1815

Died: 7 Apr 1830, Hartford CT
General notes:
Silversmith
Events in his life were: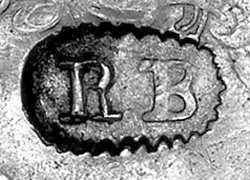 Apprenticed about 1794 to firm of WARD & BEACH in Hartford CT 1


He was a partner circa 1802 with James Ward and ? Trott in Hartford CT as WARD, BARTHOLOMEW & TROTT. 4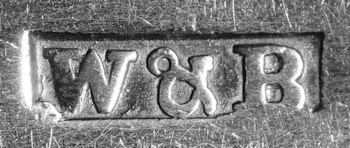 He was a partner in 1803-1809 with James Ward in Hartford CT as WARD & BARTHOLOMEW 4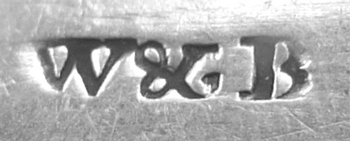 He was a partner in 1809-1830 with James Ward and Charles Brainard in Hartford CT as WARD, BARTHOLOMEW & BRAINARD, listed in the 1828 city directory at 229 Main Street. 4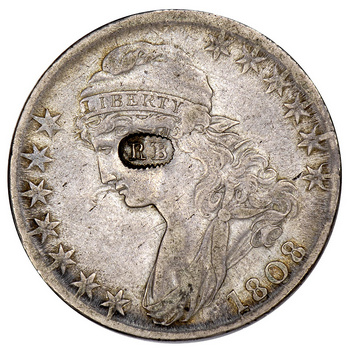 Countermarked coin, c 1810
Private Collection
The mark, struck on a 1808 half dollar, is attributed to Bartholomew by Brunk.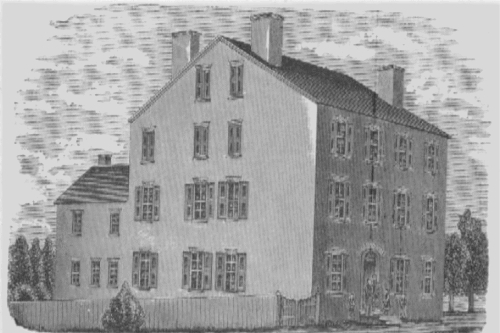 Hartford CT, 1816:
AN ACT TO INCORPORATE THE CONNECTICUT ASYLUM FOR THE EDUCATION AND INSTRUCTION OF DEAF AND DUMB PERSONS.

Be it enacted by the Governor and Council and House of Representatives in General Court assembled: That John Caldwell, Nathaniel Terry, Daniel Wadsworth, Mehitable Wadsworth, Susan Tracy, Ward Woodbridge, Henry Hudson, Daniel Buck, Mason F. Cogswell, Joseph Battell, William H. Imlay, Charles Sigourney, David Porter, David McKinney, Isaac Bull, Thomas S. Williams, John Morgan, Samuel Tudor, Jr., John Butler, George Goodwin, John Beach, James Ward, Roswell Bartholomew, George Smith, Joseph Rogers, Moses Tryon, Jr., Nathan Strong, Jr., Charles Seymour, James H. Wells, Jonathan W. Edwards, William W. Ellsworth, William Watson, Russel Bunce, Eliphalet Terry, Seth Terry, Lynds Olmsted, Thomas Lloyd, James B. Hosmer, Joseph Trumbull, Samuel Tinker, Horace Burr, Russell Talcott, Christopher Colt, Eliphalet Averill, Nathaniel Fatten, Joseph Wells, William Ely, Spencer Whiting, Barzillai Hudson, Jr., Jonathan Law, George Goodwin, Jr., Daniel Crowell, Charles Goodwin, Michael Shepherd, Caleb Goodwin, Dudley Buck, Aaron Chapin, Jared Yarborough, Barzillai Hudson, Jacob Sargeant, Peter Thatcher, Talcott Wolcott, Nathaniel Spencer, and their associates be, and they hereby are, formed into, constituted, and made a body politic and corporate, by the name of "The Connecticut Asylum for the Education and Instruction of Deaf and Dumb Persons," and by that name they and their successors shall and may have perpetual succession: shall be capable of suing and being sued, pleading and being impleaded in all suits of what nature soever, may have a Common seal, and may alter the same at pleasure, and may also purchase, receive, hold, and convey any estate, real or personal, the annual income of which shall not exceed five thousand dollars.
Roswell married Sally Johnson Stone on 26 Nov 1815. (Sally Johnson Stone was born on 30 Oct 1789 in Guilford CT.)