Nathan Fuller Mathewson
Born: 7 Sep 1814, Warren RI

Marriage (1): Susan Green Wightman about 1840 in Providence RI

Died: 27 May 1901
General notes:
Jeweler
Events in his life were:
He was a partner circa 1835-1850 with Bradford Allen in Providence RI as MATHEWSON & ALLEN, listed in the 1836 city directory with a shop on the corner of Pine and Rhodes Streets.

Letter from

David Smiley
Private Collection



Petersboro N. H. Jany 2 1838

Meßrs Mathewson & Allen

Sirs I recvd yours of Dec 11 which informed me that you had recvd the Note that I left with you, and a ring

I wish you to send me a pin the size and pattern — In Memory of with out the Chased Edge a narrow plain edge

be particular to have a good fine gold pin made it is for a particular Friend

I send your Sleight By the to morrow the 3d

Respectfully Yours Etc

Daniel Smiley jr

you can leave the pin in three or weeks at the Brattle Street Tavern Abel Tompkins 32 Corn Hill and it will be safe

D. Smiley jr



Letter from Ralph Thurston Haskins
Private Collection



Boston, Decr 16th 1839

Mr Matthewson

Dr Sir

I arrived here Saturday eve Saw your brother at Lowell – have the goodness to write to me by next Cors (?) – saying whether you will be at home all this week and if I must come to P very soon on account of the Carr Case – If you go south will you not buy some few Pearl Rings &c & some of Mr. Churchill's work —

Yours

R T Haskins
Letter from Edward Baker
Private Collection



Belfast April 16 1840

Messers Matthewson & Allen

Gent

I have sold out my stock to Mr. C. H. Baker. I find I shall not be able to pay the whole amount that I owe but I will do the best I can and pay as much as I have paper to pay with. I think I shall not be able to pay over seventy cents on a dollar – I can let you know in about a week – will do what I can. I have done near nothing since I have been here and I thought it best to wind up – and try as much as I could. Please write me and let me know if you will agree to the above and I will pay as soon as I can –

Respectfully yours

Edward Baker
Letter from Ralph Thurston Haskins
Private Collection



So Waterford June 18th 1844

Mr Mathewson

Dear Sir

I have asked Miss E to quit claim her right to the land and she is not willing Then again Father wants 250$ to make up the full amount due him that I was to pay for the place and what can I do about it? if there is any way that you can have a clear title to it will do any way that is right -- and if this cannot be arranged I will give up all my claim to the other farm &c if you pay the 1000 to Mr Platt -- you can sell any day & get your money again and more with it -- I expect to be in Boston again soon if time continues If you are in the city leave word what is best for you to act about this -- or write to me here when you get this --

Respectfully


R. T. Haskins


PS you will remember I was too pay $1200 for the Wm Farm but the place will not bring over 1000 if sold for Cash -- If you think best to take up Miss E's mortgage then Father will not require me to pay all the 250$ he will give way & do right by all concerned --

RTH
Letter from William Stoddard Nichols
Private Collection



Newport Feb. 3d 1845

Messers Matthewson & Allen

Gentlemen

Please send me by the bearer two gold pencils of the size I had at $3 each -- Also two gold bracelet clasps of the size and pattern I had of you at $1.87 each, for which I will pay when I am in Providence

Respectfully yours

Wm S Nichols

Matheson & Allen
Providence

Please recollect that the clasps had glass tops for putting hair under
Letter from FELLOWS, VAN ARNSDALE & COOPER
Private Collection



New York, Octo 11th 1847

Mssrs Matheson & Allen,

Gen

You will please send us 18 double Silver Pen & Pencil Cases chased hearts #772 and 6 do G. F. (gold filled?) #773

Resp Yours;

Fellows Van Arnsdale & Cooper



Letter from CURRIER & TROTT
Private Collection



Boston Nov 11 1847


Gentn


Your letter was duly rec'd and we have examined our circular of lost goods, and find no watch corresponding with the one mentioned in your note. We are much obliged to you for the notice taken.

We remain Yours Respectfully

Currier & Trott



Letter from Albert R. Cooke
Private Collection



New York, June 12 / 48




Messrs Matthewson & Allen

Gent:

Messr S. P. Williams and J. N. Sewall have both gone by the board. Being aware of it before it could be generally known owing to some fortunate circumstances which I will Explain when I see you, it made efforts to protect any of their notes you might have had discovered. I was sorry your books were not here, but enquired at Bank & found a note of S.P.W. was due today which I have taken up under protest, which however shall not reach the other endorsers. The amount is $831.68 which you will please provide for without delay as we are in no condition to be out of it any time and shall have to make a call on you on 23rd inst. If there are other notes due before you reach here (which it is expected you will do on Wednesday) I have them retained here.

In haste, yours

Albert R. Cooke
Letter from SLACK & BROTHER
Private Collection



New York, July 24th 1848

Gent

Enclosed we send you our note for 300 dols which we shall have to have Disct We was in hopes not to have troubled you this month but find it impossible to get allong [sic] without by getting the enclosed note Disct — you will much oblidge

Yours Respectfully

Slack & Brother



He was a partner in 1850-1853 with William Chaplin Greene in Providence RI as MATHEWSON & GREENE, with a shop at the corner of Westminster and Eddy Street.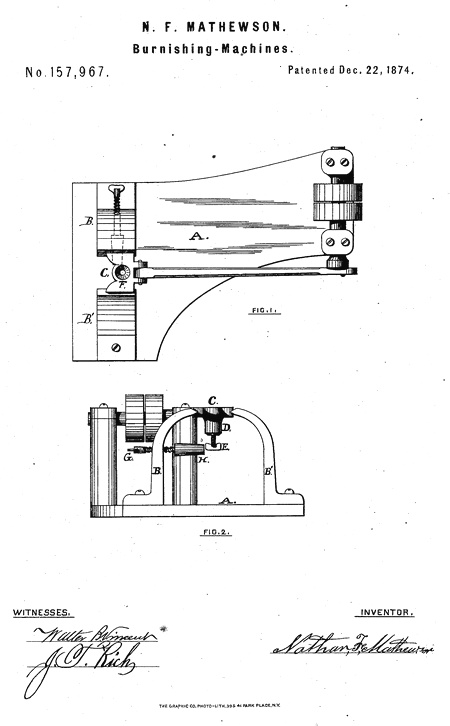 He was issued patent number 157,967 on 22 Dec 1874

NATHAN F. MATHEWSON, OF PROVIDENCE, RHODE ISLAND.

IMPROVEMENTS BURNISHING MACHINES

Specification forming part of Letters Patent No. 157,967, dated December 22, 1874; application filed September 24, 1874.

To all whom it may concern:
Be it known that I, Nathan F. Mathewson, of Providence, in the State of Rhode Island, have invented a new and useful Machine for Burnishing; and I do hereby declare that the following specification, taken in connection with the drawing making a part of the same, is a full, clear, and exact description thereof.
Figure 1 is a top view of my invention. Fig. 2 is an end view.
My invention, although useful in other manufactures, is more especially designed for use in connection with the manufacture of jewelry, and consists in the device hereinafter described.
The burnishing of the work, which has heretofore been done by hand, materially adds to the expense of manufacturing jewelry, while it also proportionally delays the completion of the goods. With my improved machine a boy with but little previous training can easily perform an amount of work heretofore requiring several men.
Upon one end of a suitable bed-plate, A, I attach two curved guides, B and B', which . receive and support a slide, C. Upon the under side of the slide C is a wrist, D, extending downward toward the bed-plate A, constructed so as to receive and hold a suitable burnishing-tool, E, which may be taken out and replaced by others of different form, as occasion may require. Through the slide G and wrist D is a hole, F, into which water or soap-suds may be caused to drop from a vessel above the machine, and will be thus conducted to the burnishing-tool. Extending through the guide B is a thumb-screw, G, having at its extremity a rest, H, against the end of which the work may be steadied during the operation.
The operation of my invention is as follows: The workman holds the piece to be burnished against the rest H, and in contact with the tool E, which moves with great rapidity, motion being imparted to the slide G by the well-known arrangement of cam and pitman, as shown in Fig. 1.
What I claim as my invention, and desire to secure by Letters Patent, is—
The slide G, constructed with a hole, F, for the introduction of liquid, in combination with the wrist D and tool E.

Nathan F. Mathewson

Witnesses:
Walter B. Vincent
J. T. Rich
Nathan married Susan Green Wightman, daughter of Daniel Wightman and Charlotte Chase, about 1840 in Providence RI. (Susan Green Wightman was born on 26 Jan 1819 in Warwick RI and died on 4 Sep 1886.)