Gideon Fairman
Born: 26 Jun 1774, Newtown CT

Marriage (1): Delight Austin in 1798 in Albany NY

Marriage (2): Delia Wattles on 21 Jun 1820

Died: 18 Mar 1827, Philadelphia PA
General notes:
Engraver
Events in his life were:
Apprenticed Abt 1787 in New Mitford CT to Isaac Crane, a blacksmith and mechanic, but he took up engraving after meeting Richard Brunton, an itinerant engraver. He then apparently travelled to Albany and completed his training under Isaac and George Hutton. 3
He was a partner in 1805-1810 with William Hooker in New London CT as HOOKER & FAIRMAN, makers of mathmatical and surveyor's equipment. 3
He was a partner in 1810-1818 with George Murray and John Draper in Philadelphia PA as MURRY, DRAPER, FAIRMAN & Co, where he specialized in banknote vignettes. 3
He was a partner in 1819-1822 with Jacob Perkins in Philadelphia PA as PERKINS & FAIRMAN. He went to England where he resided for two years and conducted the engraving business for three years before returning to Philadelphia.
He was a partner in 1826-1827 with John Draper and Thomas Underwood in Philadelphia PA as FAIRMAN, DRAPER, UNDERWOOD & Co.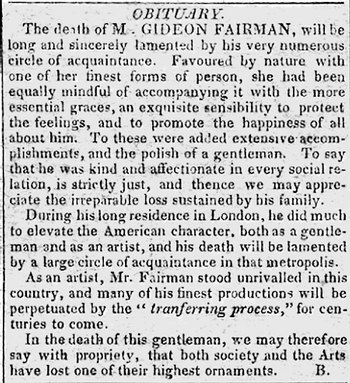 Obituary printed in the The National Gazette & Literary Messenger (Philadelphia PA) on 29 Mar 1827

Gideon married Delight Austin, daughter of Unknown and Unknown, in 1798 in Albany NY. (Delight Austin was born on 6 Feb 1767 in Suffield CT and died on 20 Jan 1810.)
Gideon next married Delia Wattles on 21 Jun 1820.