Jacob Perkins
Born: 9 Jul 1766, Newburyport MA

Marriage (1): Hannah Greenleaf on 11 Nov 1790

Died: 11 Jul 1849, London England
General notes:
Silversmith
Events in his life were:
He worked in 1783-1816 as a silversmith in Newburyport MA inherited his master's business at age 17. 2
Simple Elegance:, . 2 Began his carrer in Newburyport, working there until c. 1816 when he moved to Philadelphia. He has been called an inventive genius and was honored in London by the Society of Liberal Arts. Invented machine to manufacture wire into nails; supervised restoring of old guns for government in 1812; invented steam gun to fire 100 balls a minute.
Perkins's skill as a goldsmith enabled him to succeed in developing the dies for minting the Massachusetts copper cent of 1788. On one side is the American eagle, with a shield on its breast, and on the other an Indian with bow and arrow pointed downward. The silver marks of silversmith Theophilus Bradbury and Son are a near mirror image of the Massachusetts cent. Their mark was most likely influenced by the invention by Perkins in 1813 of a device for manufacturing silver spoons by shaping them between a steel roller and a movable table, each of these parts having respectively the impression of the two sides of the spoon. Spoons of this period bearing the aforesaid markings were probably all made by means of the Perkins Roller Press. In 1815 Perkins stated that he had examined specimens of Bradbury and Son's work and pronounced them equal to European manufacture. Without doubt Perkins, with his knowledge of die-making, simplified much of the repetitive work performed by this firm. In a published address in 1818 by the Massachusetts Charitable Mechanics Association, his name is given in the classified trades list as a goldsmith.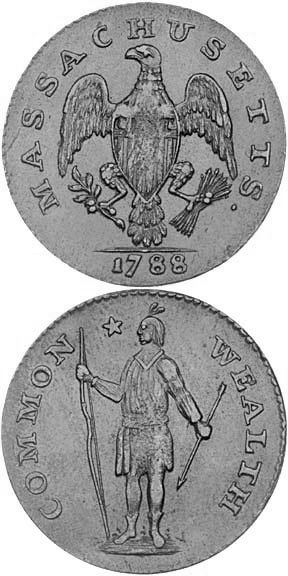 Massachusetts copper cent, 1788
Private Collection

Abt 1790: Perkins built a machine to cut and head nails in one operation, but the plant he opened to exploit it was ruined by an extended lawsuit over the invention. He subsequently devised a method of bank-note engraving that made counterfeiting extremely difficult. Failing to attract American interest in the process, Perkins and his partner set up a factory in England and in 1819 began printing notes for local banks; after 1840 the factory was also authorized to print Britain's first penny postage stamps.

Perkins also experimented with high-pressure steam boilers and in 1823 devised means to attain working steam pressure of 800-1400 psi. He built a Woolf-type steam engine (1827), designed an improved paddle wheel (1829), and invented a means for the free circulation of water in boilers (1831), which led to the design of modern water-tube boilers. He was awarded a medal by the Society for the Encouragement of the Arts for his method of ventilating ships' holds.
.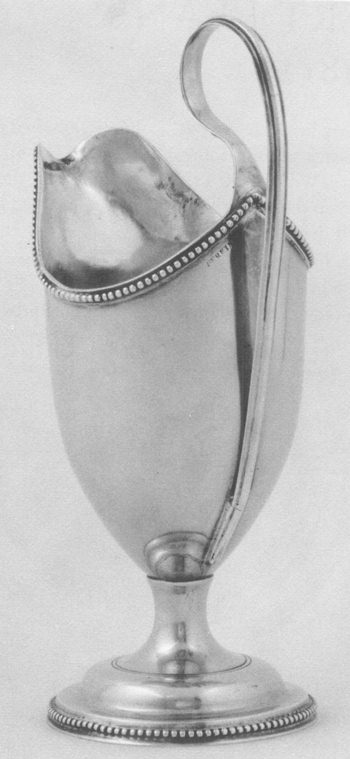 Creamer, c 1790
Museum of Fine Arts, Boston 10
h: 6 3/4"
wt: 5 oz, 4 dwt
Engraved SP (with W added later in same script) for Sarah Parsons. She and her husband Gorham Parson died childless and the piece passed to her neice, Sarah (Parsons) Worcester.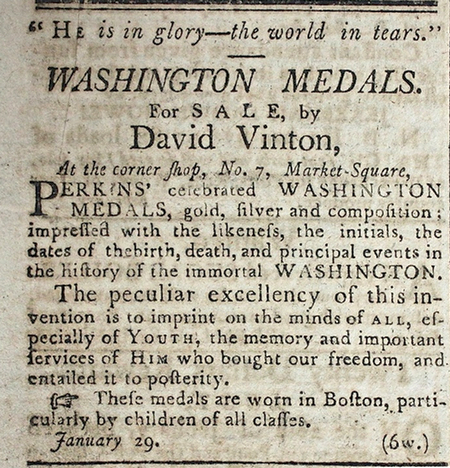 Advertised in the Providence Journal (Providence RI), 5 Feb 1800, by David Vinton offering the Washington funeral medals produced Perkins.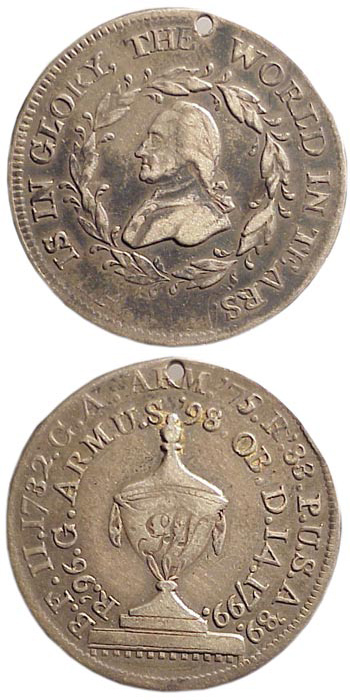 Washington funeral medal, c 1800
Private Collection

Jacob married Hannah Greenleaf on 11 Nov 1790. (Hannah Greenleaf was born on 20 Dec 1770 in Newburyport MA.)