Daniel Dupuy
Born: 3 Apr 1719, New York City NY 35

Marriage (1): Eleanor Cox on 6 Sep 1746 in Philadelphia PA

Died: 30 Aug 1807, Philadelphia PA
General notes:
Silversmith
Events in his life were: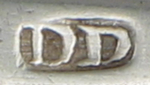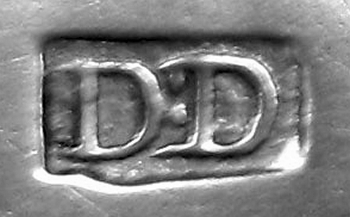 He worked in 1745-1763 as a silversmith in Philadelphia PA 4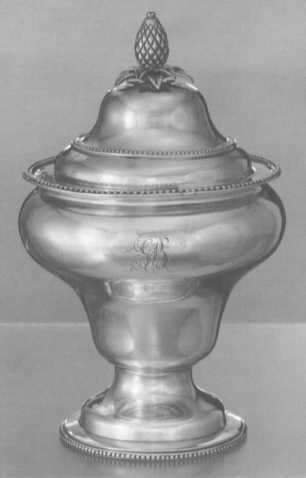 Sugar bowl, c 1760-1775
Yale University 13
h: 7 7/8"
d: 3 9/16" (base)
wt: 14 oz, 8 dwt
He was a partner in 1760 with various silversmiths in Philadelphia PA in a joint shipping venture to Guadelope, which was a French territory, but captured by the British in 1759. 35
He was a partner in 1763 with John David in Philadelphia PA as DAVID & DUPUY. 4
Philadelphia PA, 1763: he is listed as purchasing from the estate of Philip Hulbeart, Philadelphia goldsmith, (executors were Phillip Syng and Joseph Richardson), tea tongs, gold lockets, gold buttons, six old and six new spoons.
He was a partner in 1772-1805 with Daniel and John Dupuy in Philadelphia PA as DUPUY & SONS. 4
Master to Joseph Evans Abt 1772 in Philadelphia PA. 7
Philadelphia PA: In the period before the War of Independence, John David, William Ball, Daniel Dupuy, Philip Hulbeart, John Leacock, and Edmund Milne were among the Philadelphia goldsmiths who advertised silverplate imported from London.
Advertised in the Pennsylvania Packet, Nov 1781, announcing "Scales and Weights for weighing of gold; best plated spurs; and a variety of Silver work; to be sold by Daniel Dupuy, in Sec­ond-Street, next door but one to the Meeting house."
He worked in 1785-1807 as a silversmith in Philadelphia PA 50
Philadelphia PA: Name listed in Philadelphia Directory as Daniel Dupy in 1785, as Daniel Dupey in 1791, and as Daniel Dupee in 1795.
Advertised in the Pennsylvania Packet (Philadelphia PA), 19 Sep 1789, To Be Let, A Good three story brick House, now in the tenure of Mr. William Sansom. It is situated in Third-street, between New and Vine streets; it is accommodated with two neat parlours and upper rooms, a convenient two story kitchen and a cellar under the whole. It is in good repair. A commodious yard with an alley on the back, For particulars apply to Daniel Dupuy, jun. in Second street, near the Friends Meeting house, where he carries on the Gold, Silver and Watch work in the different branches. He also wants an Apprentice.
N. B. A quantity of good building Stone to be sold, at the Quarry near the Lower Ferry, which might be convenient for those who want to build in the Neck, or near the southern boundary of the city.
He was a partner in 1792-1805 with Daniel and John Dupuy in Philadelphia PA as DUPUY & SONS. 4
Daniel married Eleanor Cox on 6 Sep 1746 in Philadelphia PA. (Eleanor Cox was born about 1719 in Clover Hill PA and died on 16 Mar 1805 in Philadelphia PA.)