John Gladding Gibbs
Born: 20 Oct 1751, Bristol RI

Marriage (1): Elizabeth Gardner on 22 May 1774 in Newport RI

Died: 6 Oct 1797, Providence RI
General notes:
Silversmith
Events in his life were: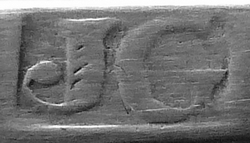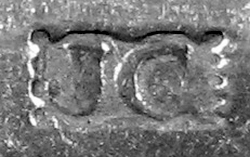 Flynt & Fales:, . 3 Appointed one of committee to design a seal for Rhode Island. Also made a sword presented by State to Silas Talbot for a daring expedition against a British Pigot galley.
Advertised in the Providence Gazette (Providence RI), 13 Feb 1773, as goldsmith and jeweler, says he opened shop at house of Capt. Hopkins a little southward of the Great Bridge. 3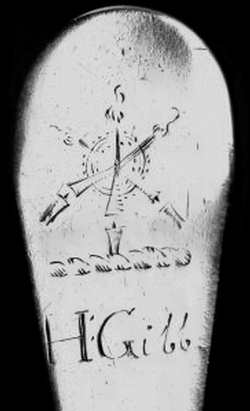 Tablespoon, c 1780
Private Collection
l: 8 1/2"
wt: 1 3/4 oz
Engraved "H. Gibbs" beneath the crest of Gibbs of Warwickshire, three broken tilting spears enfiled within a wreath.

Tablespoon, c 1780
Private Collection
l: 8 1/8"
Engraved "I * C" on handle back and "Joseph Crawford" (in later script) on bowl back.
Obituary printed in the Newport Mercury (Newport RI) on 10 Oct 1797 3
His business was continued by his widow, Elizabeth in partnership with John Jenckes as JENKES & Co. until 1800.
John married Elizabeth Gardner, daughter of Caleb Gardner and Eleanor Phillips, on 22 May 1774 in Newport RI. (Elizabeth Gardner was born in 1755 in Newport RI, christened in May 1755 in Newport RI and died on 25 Jan 1803 in Providence RI.)