Daniel B. Thompson
Born: Abt 1802, Litchfield CT

Marriage (1): Sarah Hammond

Died: 26 Jul 1876, Brattleboro VT
General notes:
Silversmith, jeweler, and watchmaker
Events in his life were:
He worked circa 1817-1843 as a silversmith, jeweler, and watchmaker in Brattleboro VT working for his father and later succeeding to the business. 3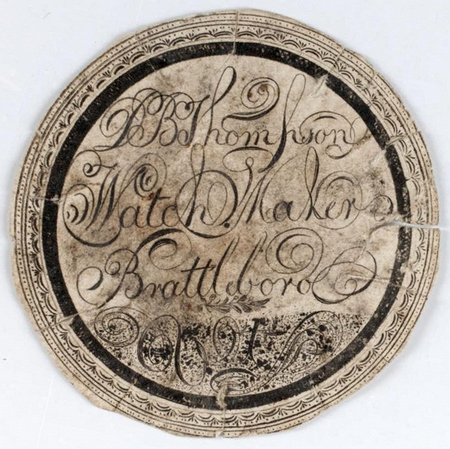 Watch paper, c 1820
American Antiquarian Society

He was a partner in 1843-1876 with Bethuel Ranger in Brattleboro VT as THOMPSON & RANGER 3
Advertised in the Bangor Daily Whig and Courier (Bangor ME), 18 May 1861, as part of a group endorsement of the Waltham Watch Company.
Daniel married Sarah Hammond.