Simeon Holton
Born: 12 Jul 1822, Northfield MA

Marriage (1): Mrs. Lydia Holton about 1850 in Massachusetts

Died: 24 Jun 1891, Middlebury VT
General notes:
Silversmith, jeweler, and watchmaker
Events in his life were:
He was a partner in Aug 1850-1853 with Charles H. Carpenter in Middlebury VT as HOLTON & CARPENTER with a shop in the old stand on the bridge formerly occupied by Joseph Dyar. Advertisements for gold & silver watches, fine silverware and table goods, tea sets, tea, table, and salt spoons, etc, ran in local papers through late 1851. 8
He worked in 1853-1881 as a silversmith, watchmaker, and jeweler in Middlebury VT with a new shop at No. 1 Brewer's Block. In 1858, he returned to a shop on the bridge and advertised watches and fine silver goods. In the Sheldon Museum is a watch by Holton made entirely of ivory. His son Everet began working with him in 1879. 8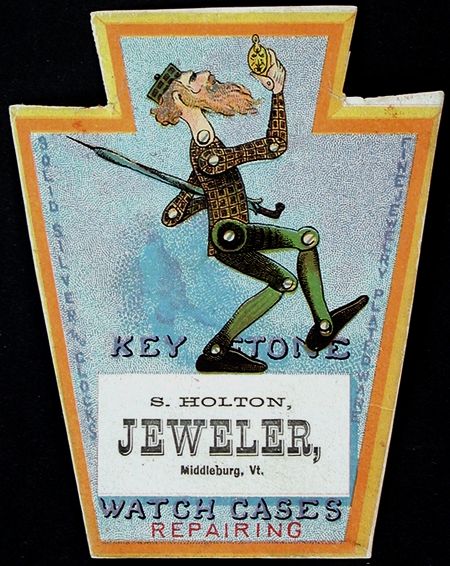 Tradecard, c 1875
Private Collection

Simeon married Mrs. Lydia Holton about 1850 in Massachusetts.