Joseph Dyar
Born: 15 Jun 1795, Boston MA

Marriage (1): Love Lawrence Brooks on 22 Nov 1819 in Concord MA

Died: 23 Feb 1850, Middlebury VT
General notes:
Silversmith, clock- and watchmaker
Events in his life were:


He worked in 1815-1821 as a clock- and watchmaker, silversmith and jeweler in Concord MA as a journyman in the shop of Lemuel Curtis. When Curtis moved to Burlington around 1820, Dyar took over his business and carried on alone in Concord until he too migrated to Vermont, settling in Middlebury about 1822. Beginning in 1822, Dyar advertised that he carried at his shop in Middlebury a large assortment of fancy goods and jewelry, including English and French watches, chains, seals and keys. He also had a rich assortment of silver table, tea, cream and salt spoons, silver sugar tongs and thimbles, and gold beads. He continued to advertise through the 1820s and into the 1830s. Dyar was prominent in village affairs, serving as village trustee from 1834 through 1838. His house was located on Seminary Street, and was originally built by William Baker. Dyar continued to work at his trade and is listed in Walton's Register as a merchant of watches and jewelry and as a jeweler from 1843 through 1850. One wintry February day while traveling from his shop to his house, a pair of horses harnessed to a sled standing in front of a neighboring store were startled by the whistle of a railroad engine. They galloped off at a furious pace and ran over Dyar, injuring him fatally. He died a day or two after on the 23rd of February 1851, age 56. 16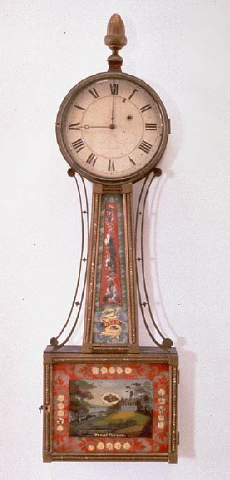 Clock, c 1821
Concord Museum 45
h: 33"
w: 10"

Inscribed Warranted by J. Dyar./Concord. on the dial. Mahogany, gilt pine, painted glass; brass, steel, painted iron.
Advertised in the National Standard (Middlebury VT), 12 Nov 1822, his brass patented eight-day timepieces were sold cheap for cash and a good assortment of spoons, tongs, thimbles, gold beads and timepieces. Essentially the same ad ran in 1824 and 1825. 3
Advertised in the American and Gazette, 1836, calling attention to his jewelry, watches, silver spoons and gold beads. 3
Advertised in the Middlebury Free Press (Middlebury VT), 16 Aug 1836, announcing he had received new merchandise, consisting of spy glasses, thermometers, spectacles, silver and shell combs, gold rings and ear rings, breast pins, pen knives, scissors, razors, silver pencils, elegant castors, looking glasses and musical instruments of many sorts including violins, fifes, flutes, clarinets and bugles. He repeated that he would attend faithfully to watch repairing. 16
Middlebury VT, 21 May 1851: Middlebury Register records that in 1850, Charles H. Carpenter and Simeon Holton leased "the old stand on the Bridge so many years occupied by J. Dyar." 3
Joseph married Love Lawrence Brooks on 22 Nov 1819 in Concord MA. (Love Lawrence Brooks was born on 8 Jul 1801 in Lincoln MA and died on 30 Mar 1826 in Middlebury VT.)