William Jones
Born: 20 Jul 1694, New Haven CT

Christened: Abt Feb 1695, New Haven CT

Marriage (1): Isabella Burrington on 15 Jun 1720 in Boston MA

Died: 17 Oct 1730, Marblehead MA
General notes:
Silversmith
Events in his life were: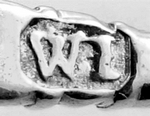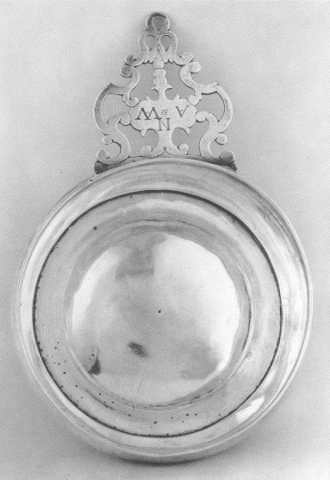 Porringer, c 1720-1730
Museum of Fine Arts, Boston 10
h: 1 5/8
d: 5 5/16
wt: 5 oz, 18 dwt
Engraved N over A ¤ W

Book clasp, c 1722
Yale University 13
l: 3 13/16
Engraved Mercy English / 1722 on back. Possibly made for her wedding Bible.
Flynt & Fales:, . 3 He probably died of small pox since three "Nurses in Small pox each six weeks Each at 20/ -per week" were recorded in the settlement of his estate. There was also instruction to his wife to give "a small silver cup to ye Communion Table" for the town's Congregational Church founded in 1684. Most likely of his own making, it was unfortunately remade, with other small pieces, into a beaker by vote of the elders in 1772. His inventory and Acts of Administration were filed with Probate Court in Salem. The former refers to contents "in the Worke Shops," and "to the working tools, weights and Scails Glass cases and the Utensels of the Shop £60." The Acts of Administration show payment of £54/8d to "Jacob Heard (Hurd?) of Boston," with the names of Peter Briggs and Richard Reed listed on the same line. He also left an estate valued at £3,000, a considerable sum for a craftsman who died at the early age of 36.
William married Isabella Burrington on 15 Jun 1720 in Boston MA. (Isabella Burrington was born on 8 Aug 1697 in Boston MA and died on 24 Dec 1764 in Lynn MA.)