John Jagger
Born: 28 Dec 1713

Marriage (1): Isabella Burrington on 22 Jul 1735 in Marblehead MA

Died: Bef 1764, Boston MA
General notes:
Silversmith
Events in his life were:
He worked before 1738 as a silversmith in Marblehead MA 9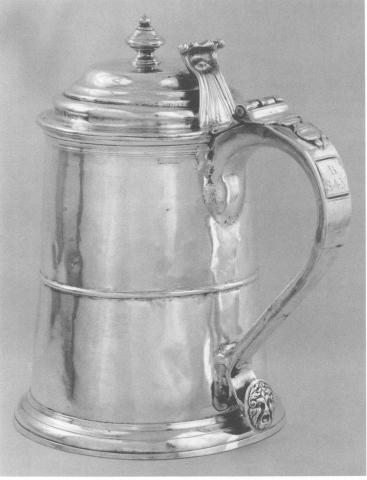 Tankard, c 1738
Museum of Fine Arts, Boston 10
h: 7 7/8
d: 5 1/4 (base)
wt: 22 oz, 11 dwt
Engraved B over SM for Simon and Mary (Strahan Hills) Bradstreet of Marblehead MA. This is the only known piece by Jagger.
He worked circa 1738 as a silversmith in Boston MA
On 01 April 1740, Jagger, "goldsmith of Boston," testified as a plantiff in an assualt case against James Barry, who broke into the Jagger house 01 September 1738 and attacked Sabella.
John married Isabella Burrington on 22 Jul 1735 in Marblehead MA. (Isabella Burrington was born on 8 Aug 1697 in Boston MA and died on 24 Dec 1764 in Lynn MA.)