Philip Schuyler
Born: Abt 1687, Albany NY

Christened: 11 Sep 1687

Marriage (1): Sarah Folman on 28 Feb 1718 in New York City NY
General notes:
Example
Events in his life were: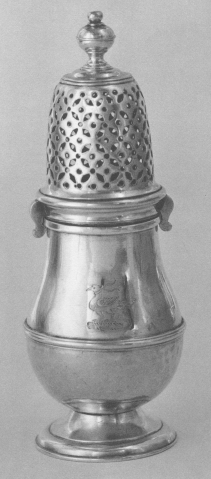 Caster by Adrianus Bancker, c 1730
Museum of Fine Arts, Boston 10
h: 5 5/8"
d: 1 7/8" (base)
wt: 5 oz, 6 dwt
Made for Philip Schuyler, second husband of Sarah Folman, mother of Nicholas Roosevelt. Engraved with family crest. Unmarked, but attribution based on nearly identical set of three marked casters in the Museum of the City of New York.
Philip married Sarah Folman on 28 Feb 1718 in New York City NY. (Sarah Folman was born about 1689 in New York City NY and died on 6 Jun 1730 in New York City NY.)