Theophilus Bradbury
Born: 22 Nov 1763, Newburyport MA

Marriage (1): Lois Pillsbury on 3 Oct 1792 in Newburyport MA

Died: 1848, Newburyport MA
General notes:
Silversmith
Events in his life were: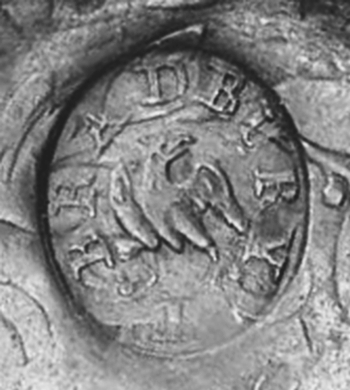 He was a partner circa 1796 with Joseph Moulton in Newburyport MA as MOULTON & BRADBURY. Their shop was located on Merrimack Street and they produced plated buckles. 2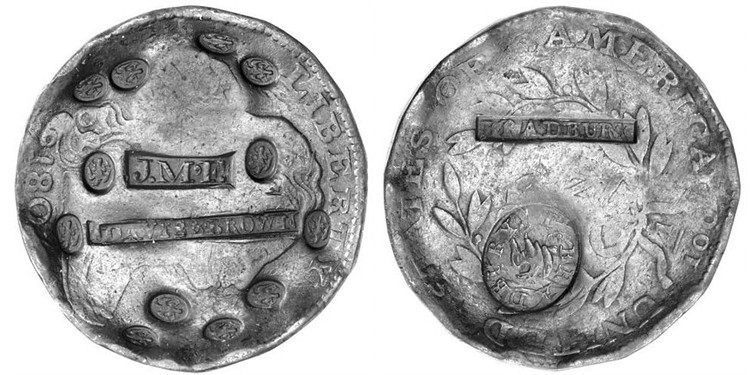 Countermarked coin, c 1810
Private Collection
Stamped on a 1802 cent piece by Bradbury (twice), DAVIS & BROWN, and John MacFarlane.
He was a partner circa 1815 with Ebenezer Bradbury in Newburyport MA as THEOPHILUS BRADBURY & SON. 3
Advertised in the Newburyport Herald for BRADBURY & SON (Newburyport MA), 4 Apr 1815, offering . . . soup, sauce and cream ladles, table and tea spoons, sugar basins, tea pots, cream pots and pitchers. . . of their own manufacture.
Theophilus married Lois Pillsbury, daughter of Unknown and Unknown, on 3 Oct 1792 in Newburyport MA. (Lois Pillsbury was born on 11 Jul 1775 in Newbury MA and died on 4 Sep 1828 in Newburyport MA.)