Samuel Davis
Born: 5 Mar 1765, Plymouth MA

Died: 10 Jul 1829, Plymouth MA
General notes:
Silversmith
Events in his life were:
Apprenticed in Apr 1779-1785 to George Tyler in Boston MA 1 at No. 15 Cornhill.
Mr. Tyler did not require his apprentices to work at night -- a custom prevalent at the time -- so Davis spent his leisure hours in "improvement of his mind." He contributed poetry, etc. to the Columbian Centinel. While learning the silversmith trade, he also learned how to play the German flute from Mr. Vent (silversmith John Frederick Vent), a journeyman in the shop. He was particularly interested in engraving and described himself as being second to none before he was of age- excepting [Joseph] Callender , [Joseph] Loring , and [Paul] Revere in this specialized art.
He worked in 1785-1810 as a silversmith and jeweler in Plymouth MA 3

Ladle, 1800-1810
Private Collection
l: 14"

He was a partner in 1809-1816 with Robert Johnson Brown in Boston MA as DAVIS & BROWN. 8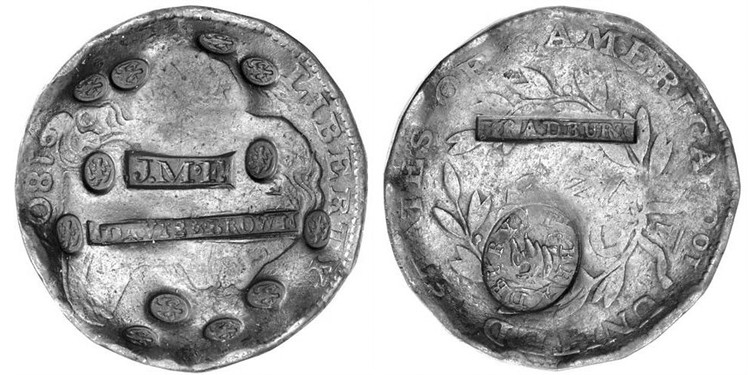 Countermarked coin, c 1810
Private Collection
Stamped on a 1802 cent piece by Theophilus Bradbury (twice), DAVIS & BROWN, and John MacFarlane.
Flynt & Fales:, . 3 Though he continued on as a partner in DAVIS & BROWN, he retired from active business c 1810 because of a delicate state of health. He became well-known as an historian and scholar and was made a member of Massachusetts Historical Society, Jan. 30, 1812. In 1817, Harvard University conferred upon him the honorary degree of Master of Arts.
He was a partner in 1816-1825 with Robert Johnson Brown in Boston MA as DAVIS, BROWN & Co. 8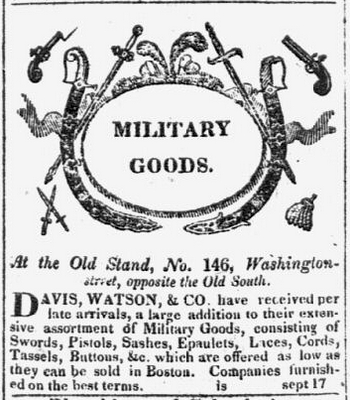 Advertised in the Columbian Centinel, 17 Sep 1825,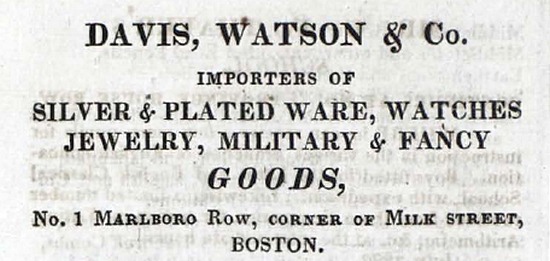 Advertised in the Boston Directory (Boston MA), 1822,