Francis Richardson
Born: 25 Nov 1681, New York City NY

Marriage (1): Elizabeth Growden on 18 Apr 1705 in Philadelphia PA

Marriage (2): Letitia Swift on 30 Apr 1726 in Philadelphia PA

Died: 17 Aug 1729, Philadelphia PA
General notes:
Silversmith
Events in his life were:
Apprenticed in 1695-1699 to Johannis Nys? in Philadelphia PA 35
It was believed by Martha Gandy Fales that Francis Richardson, Jr. may have been sent to England with his Shippen step-brothers to learn the trade of a goldsmith during the period 1695-99, although the records of the London Goldsmiths' Hall has no record of him as an apprentice. Alternatively, she thought he may have been trained in Philadelphia under Johannis Nye, since Nye's work most closely resembles that of Francis Richardson, and it's known from Richardson's account books that Nye had business with him. At any rate, at the age of 20, Francis Richardson, Jr. had begun working as a silversmith in Philadelphia in 1701, since William Penn made a note in his cashbook that he had purchased a set of shoe buckles for his daughter Letitia from him.
Made freeman of Philadelphia PA, 20 May 1717. Records of Minutes of City Common Council, "Francis Richardson, Goldsmith. . . was admitted Freeman of Philadelphia, and paid 5 s., 6 d." 3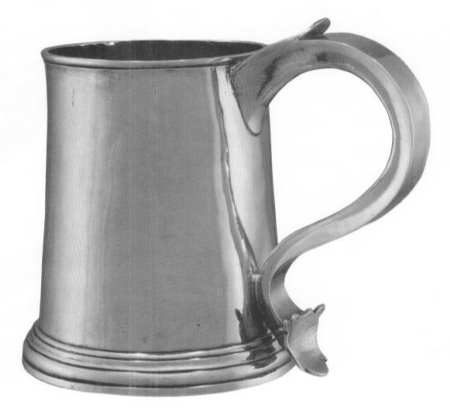 Cann, c 1720
Winterthur Library 7
h: 5 11/16"
wt: 17 oz, 12 dwt
Engraved P * S for Phebe Sharpless.
Francis married Elizabeth Growden on 18 Apr 1705 in Philadelphia PA. (Elizabeth Growden was born in 1680 in Travose Cornwall England and died on 19 May 1714 in Philadelphia PA.)
Francis next married Letitia Swift on 30 Apr 1726 in Philadelphia PA. (Letitia Swift was born about 1705 in Philadelphia PA.)