Johannis Nys
Born: 1671, New York City NY

Christened: 27 Aug 1671, New York City NY

Marriage (1): Margriete Ketteltas on 4 Mar 1693 in New York City NY

Died: 1734, Kent DE
General notes:
Silversmith
Events in his life were: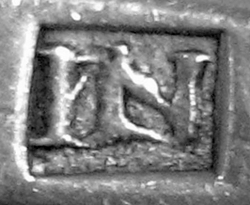 Apprenticed Abt 1685 in New York City NY. 8
He worked in 1692-1698 as a silversmith in New York City NY 7
He worked in 1698-1723 as a silversmith in Philadelphia PA 10
, . In John Fanning Watson's original manuscript of the "Annals of Philadelphia" in the collection of The Historical Society of Pennsylvania the following paragraph appears:

"To the General Assembly now Sitting the petition of Sundry the Inhabitants of this province most humbly Sheweth
WHEREAS your petition's being Inhabitants of this province and being given to understand that there is great Quantities of Leaden and pewter farthings & half pence whereby your petition's are likely to be much Damaged by Reason such great Quantity's are Liable to be Crowded upon us.
Now these are to Protest & humbly Interest that you would be pleased to make an act of Assembly That all such farthings and half pence that are made of Lead & pewter may be wholly suppressed & Cryed Down and only those of Copper which are the Kings Coyn may pass the farthings for two a penny & the half pence for a penny....Philadelphia the twenty first of the third month 1698."

This petition was signed by fifty-three citizens including Johannis Nys and fellow smith Cesar Ghiselin.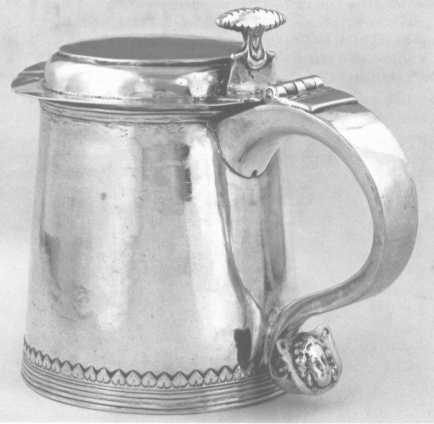 Tankard, c 1700
Museum of Fine Arts, Boston 10
h: 7 1/8"
d: 5 5/16" (of base)
wt: 30 oz, 19 dwt
Engraved 34 ON / 4 PE indicating his New York training; the same abbreviations for ounce and pennyweight were also used by Peter Van Dyck and Jacob Boelen.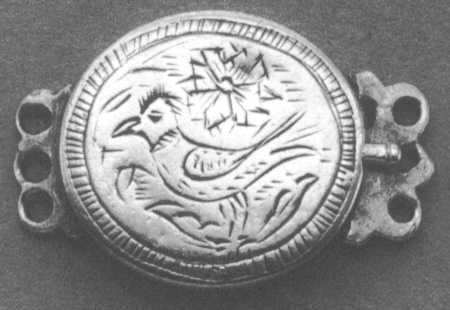 Locket, c 1715-1730
Yale University 13
l: 7/8"
w: 5/8"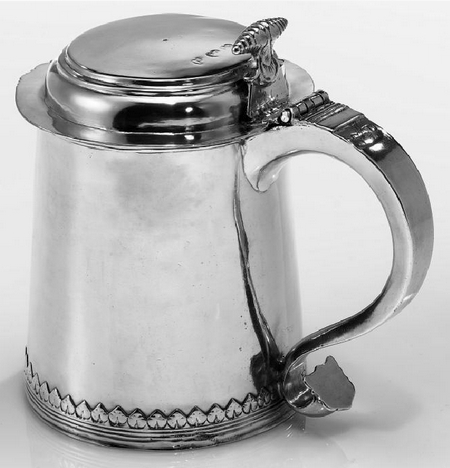 Tankard, c 1716
Private Collection
h: 5 5/8"
wt: 14 oz, 10 dwt
Engraved SP for Susannah Painter.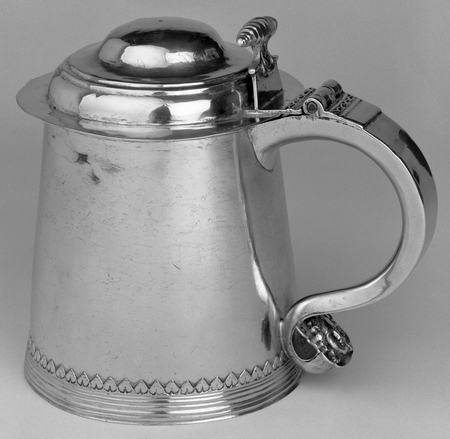 Tankard, c 1720
Winterthur Library
h: 7"
wt: 30 oz, 17 dwt

He worked in 1723-1734 as a silversmith in Kent DE, the second silversmith in the colony and the first whose work is still extant. 10

Marrow scoop, c 1725
Winterthur Library
l: 8 1/2"
wt: 1 oz, 6 1/4 dwt
Johannis married Margriete Ketteltas on 4 Mar 1693 in New York City NY. (Margriete Ketteltas was born in 1669 in New York City NY and was christened on 17 Feb 1669 in New York City NY.)