Gurdon Tracy
Born: 18 Jan 1767, Norwich CT

Died: 10 Jul 1792, New London CT
General notes:
Silversmith and clockmaker
Events in his life were:
He worked in 1790-1792 as a silversmith and clockmaker in New London CT 3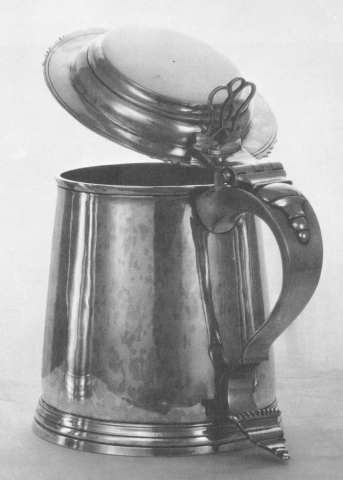 Tankard, c 1790
Private Collection 14
h: 6 3/4"
Engraved THE GIFT OF Mr JOSEPH MARVIN TO / JANE LORD, HIS GRAND DAUGHTER 1790.
Letter To the New Church in New London CT 1 Dec 1790
Private Collection



Sr. Being unwell I sent the Bearer to see what was amiss in your clock from whence he has just now returned. Had the person who winds the clock known where to have apply'd a few drops of oyl the difficulty would have been prevented from whence you will see the propriety of having the clock wound up by a person who is acquainted with the business. Mr Gurdon Tracy was at my house last week and says He would be glad to wind up and take the whole care of it for a reasonable compensation. Should you see cause to give him the charge of it I have no doubt of his doing it to the satisfaction of all concerned. At the same time should any part of the work fail or give way I shall be every ready to wait upon you at the shortest notice.

Your most obliged humble Servant


Tracy was given the commission to repair and maintain the clock for 40 shillings a year.
Flynt & Fales:, . 3 Died in New London and buried in "Ancient Buriall Place of New London." Gravestone states, "In Memory of Mr. Gurdon Tracy who died July 11, 1792, in the 26th year of his age." Inventory of estate taken July 18, 1792 includes
". . . an anvil, 1 Tankard 58 2 oz, 1 Can, 1 Porringer, 2 bottom stakes, 1 soup spoon punch, a child spoon punch, Swage for porringer bottoms, Stake for punch ladle, a Milk pot anvill, 5 pitching hammers, 1 Raising hammer, 1 Booging hammer, 2 forging hammers, 1 small planishing hammer, 1 small round punch, 1 salt spoon punch, 1 pr Iron screws for casting a large vice, a smaller one, smallest, a Lathe, a large Ingot Skillet, vice tongs, flasks, hollow stamping iron, Stake, 7 hammers, 15 punches, a teaspoon punch, Ladle ditto, Sheers and sundry small things, forging tongs, plating mill, 2 bullets, a Brace Kitt, Gun brasses, Watch Engine, Drawer of Buckle patterns, a clock engine, Drills, Engravers Burnishers, a blow pipe, plating nippers, plyers, springs, mandrill, square and magnet, watch making tools, a variety of small watch tools, 4 cases stakes, 2 sett of beadtools, compasses, magnifying glass, Turkey oil stone, drawer of buckle tools, vice plates, ring measure, moulds, grindstones, also shoe, knee, stock, and boot buckles all of silver silver steeltop thimbles English buckles horse buckles sleeve buttons, stone jewels, gold jewels, locket chain, seals, pennants, and bows, silver bars, chrystals, hatpins, and the goldsmith's shop and land."