Daniel Henchman
Born: 1 Jan 1689, Boston MA

Marriage (1): Elizabeth Gerrish on 14 Jan 1713 in Boston MA

Died: 25 Feb 1761
General notes:
Example
Events in his life were: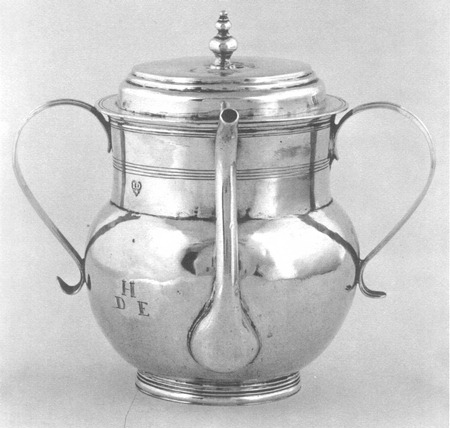 Spout cup by Jeremiah Dummer, c 1680-1700
Museum of Fine Arts, Boston 10
h: 5 1/4"
d: 3 3/19" (of lip)
wt: 8 oz, 13 dwt
Its early history is unknown; engraved H over D E for Daniel and Elizabeth (Gerrish) Henchman. The cup descended to their daughter, who left it in her will to her nephew by marriage, Governor John Hancock. It is the only known example of a two-handled spout cup by an American silversmith.
Daniel married Elizabeth Gerrish, daughter of John Gerrish and Unknown, on 14 Jan 1713 in Boston MA. (Elizabeth Gerrish was born on 19 Oct 1693 in Boston MA.)