John Coburn 20
Born: 25 May 1724, York ME

Marriage (1): Susanna Greenleaf on 7 Feb 1750 in Boston MA

Marriage (2): Catherine Vance on 16 Aug 1784 in Boston MA

Died: 20 Jan 1803, Boston MA
General notes:
Silversmith
Events in his life were: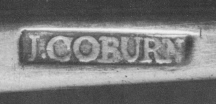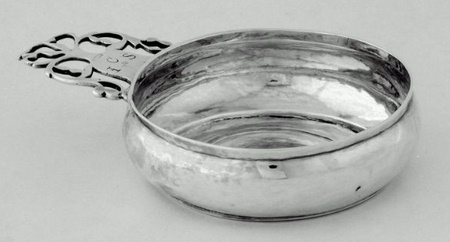 He worked circa 1745-1790 as a silversmith in Boston MA
Paul Revere occasionally provided him with silver objects as well as engraving on silver. Known especially for objects made for serving tea, Coburn also made silver for churches in Massachusetts, Connecticut and Maine. Later shops in King Street and also Federal Street. Sergeant in an Artillery Company, 1752. During British siege of Boston, Coburn left the city, but returned by August 1776 . When he died, he bequeathed to his second wife, Catherine, his "household furniture & plate excepting my Picture and the Picture of my late wife, Susannah." 3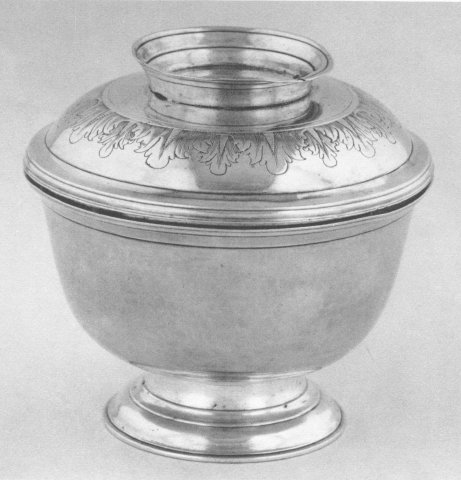 Sugar bowl, c 1746
Museum of Fine Arts, Boston 10
h: 4 3/16"
d: 2 3/4" (base)
wt: 12 oz, 19 1/2 dwt
Engraved "S over IE" for Isaac and Elizabeth (Storer) Smith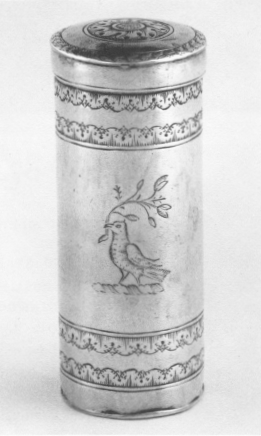 Nutmeg grater, c 1750
Museum of Fine Arts, Boston 10
h: 5"
d 1 5/8"
wt: 2 oz, 16 dwt
Engraved with Greenleaf famly crest and S G for Susanna Greeleaf.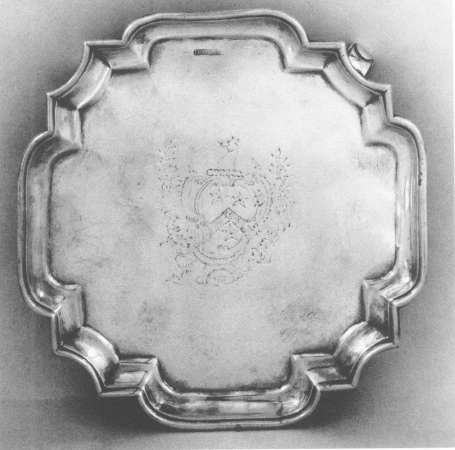 Salver, c 1750
Museum of Fine Arts, Boston 10
h: 1"
w: 5 3/4"
wt: 6 oz, 2 1/2 dwt
Engraved with Storer arms in cartouche for Ebenezer and Mary (Edwards) Storer
Advertised in the The Boston Weekly News-Letter (Boston MA), 1750, his shop at the head of Town Dock. 3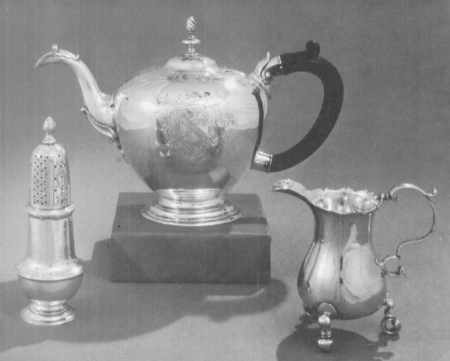 Teaset, c 1753
Historic Deerfield
h: 6 1/2" (teapot)
Given to Mary Welles by her father as a wedding present.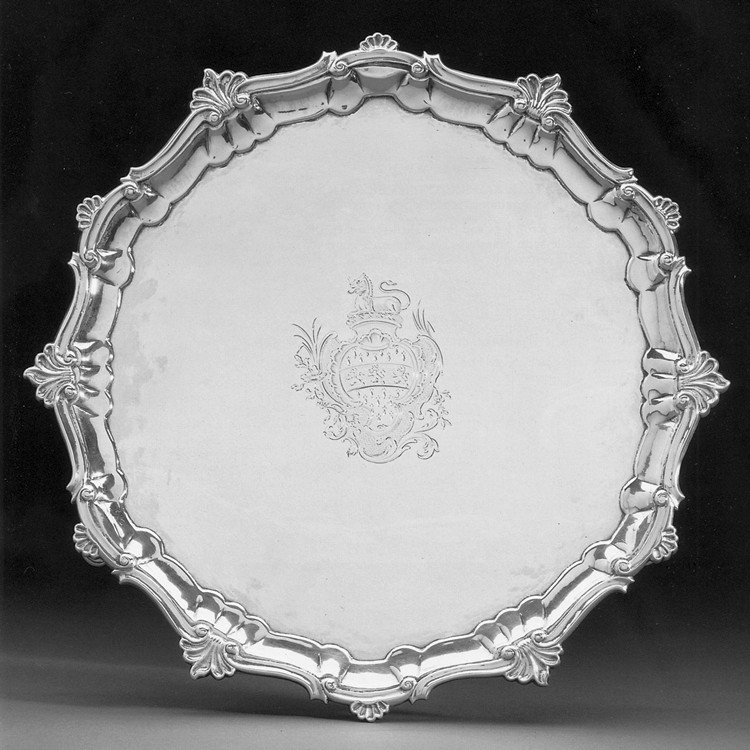 Salver, c 1760
Private Collection
dia: 13"
wt: 29 oz, 10 dwt
Engraved with the Barrett arms on front and "DH to SB" on the base. Family tradition records that the salver was the gift of Dorothy Hancock to Sarah (Gerrish) Bennett.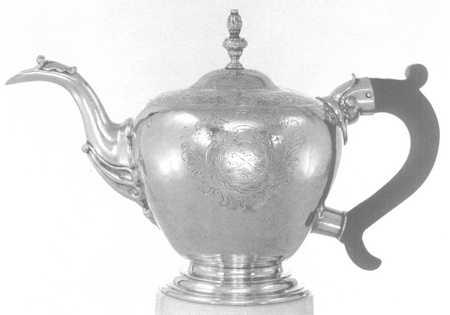 Teapot, c 1762
Museum of Fine Arts, Boston 10
h: 6 1/4"
d 3 7/16" (of base)
wt: 23 oz, 2 dwt
Engraved with the Pickering arms and LP to MP for Love (Rawlings) Pickman and her daughter-in-law, Mary (Tappan) Pickman.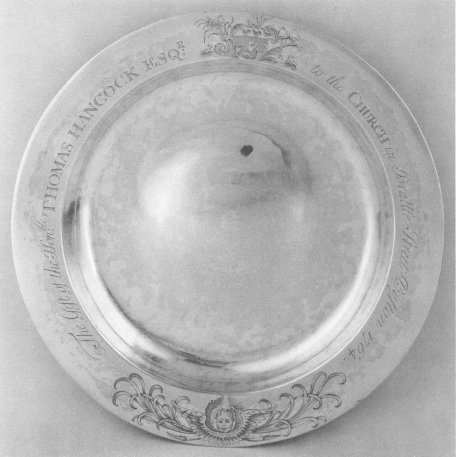 Communion dish, 1764
Museum of Fine Arts, Boston 10
d: 13 3/16"
wt: 25 oz, 5 dwt
Engraved in semi-script and block letters around rim The Gift of the Honble THOMAS HANCOCK ESQR / to the CHURCH in Brattle Street Boston 1764. Scratched on bottom No. 2 wt 26 oz.
One of three dishes made by John Coburn for this church; of the other two, one is privately owned and one is in the Smithsonian Institution (bequest of Arthur Michael, former collection of E. Alfred Jones). Hancock's will had specified £100 for "two silver Flaggons for the Communion Table," but six dishes were made. These dishes, often wrongly called alms dishes, are suggested to be for communion by the inscription on the pair owned by the First Parish in Brookline: "Do this in remembrance of me".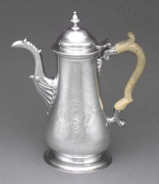 Coffeepot, c 1768
Private Collection
Engraved with the Cabot/Orne arms, the work probably done by Paul Revere.


Mourning ring, 1773
Museum of Fine Arts, Boston
dia: 11/16"
Engraved "HON. B / PICKMAN / OB: 20: AUG / 1773 . Æ 66" for Benjamin Pickman.
Advertised in the New-England Chronicle, Aug 1776, that he "carries on the goldsmith's business at his shop in King St. opposite the American Coffee-House, where his customers could be supplied with any articles in the goldsmiths or jewelry way. He likewise continues to take ladies and gentlemen to board as usual." 3
Advertised in the Boston Directory, 1789-1796, as boarding house owner and a "gentle man." 3
John married Susanna Greenleaf, daughter of Daniel Greenleaf and Elizabeth Gookin, on 7 Feb 1750 in Boston MA. (Susanna Greenleaf was born on 12 Nov 1722 in Yarmouth MA and died on 26 Feb 1782.)
John next married Catherine Vance on 16 Aug 1784 in Boston MA. (Catherine Vance was born in 1739 in Boston MA and died in 1807.)