John Lyon
Born: 1697-1698, Woodstock CT

Marriage (1): Judith Cooper on 1 Feb 1722 in Rehoboth MA

Died: 12 Feb 1760, Rehoboth MA
General notes:
Example
Events in his life were: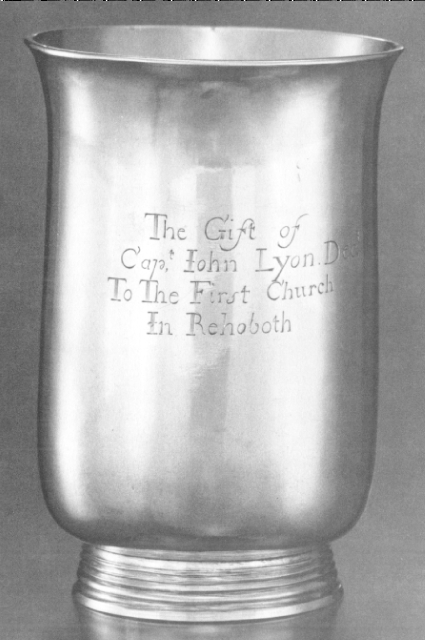 Beaker by Thomas Arnold, c 1760
Yale University 13
h: 4 5/8"
d: 3 3/16" (of lip)
wt: 6 oz, 17 dwt
One of three. Engraved The Gift of / Capt. Iohn Lyon. Dect, / To The First Church / In Rehoboth. The donor left "Ten pounds lawfull money" to the church with which these beakers were bought.

John married Judith Cooper on 1 Feb 1722 in Rehoboth MA. (Judith Cooper was born on 3 Jan 1698 in Rehoboth MA and died on 17 Mar 1727 in Rehoboth MA.)