Thomas Arnold
Born: Abt 1735, Newport RI

Christened: 18 Sep 1739, Trinity Church Newport RI

Marriage (1): Eliphal Wyatt on 16 Sep 1757 in Bristol RI

Died: 14 Aug 1828, Newport RI
General notes:
Silversmith
Events in his life were: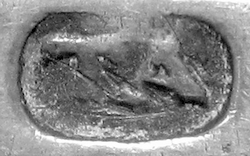 He worked in 1760-1817 as a silversmith in Newport RI 3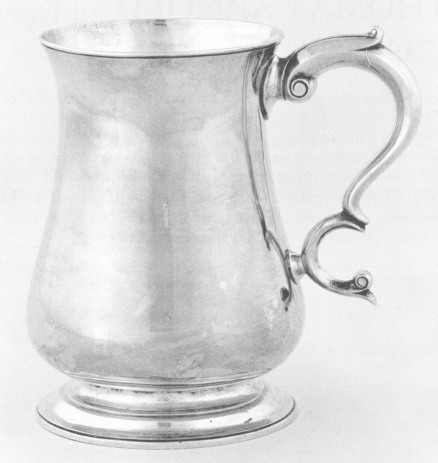 Cann, c 1760-1800
Museum of Fine Arts, Boston 10
h: 5"
d: 3 3/8" (base)
wt: 11 oz, 3 1/2 dwt
One of a pair.
Beaker, c 1760
Yale University 13
h: 4 5/8"
d: 3 3/16" (of lip)
wt: 6 oz, 17 dwt
One of three. Engraved The Gift of / Capt. Iohn Lyon. Dect, / To The First Church / In Rehoboth. The donor left "Ten pounds lawfull money" to the church with which these beakers were bought.
Appointed in 1774 as Delegate to conventions in Philadelphia in Newport RI 3
Appointed in 1789 as Justice of Peace in Newport RI 3
Advertised in the Newport Mercury (Newport RI), 2 Aug 1796, reporting lost silver bearing his mark. 3
Master to William Stoddard Nichols Abt 1798 in Newport RI. 3
Appointed Inspector of Customs, Port of East Greenwich in 1817. 3
Flynt & Fales:, . 3 Shop at Thames Street; proprietor of pew and member Trinity Church; subscribed to fund for new bell; took care of clock there for years. He made three beakers for Newman Congregational Church in 1760. Employing the simple lines of Queen Anne style, created a functional and pleasing design. Prominent citizen of Newport. Silversmith activities recorded in Newport Historical Society publications. Received M.A. degree at college in Providence (Newport Mercury, Sept. 12, 1774); elected member of faculty; chosen Trustee in 1800. Newport Historical Society Magazine, 1881-82 refers to him as a highly respected silversmith of Newport.

Punch strainer, c 1760
Private Collection
l: 10 3/4"
wt: 2 oz, 8 dwt

Thomas married Eliphal Wyatt on 16 Sep 1757 in Bristol RI. (Eliphal Wyatt was born about 1736 in Middletown RI.)