Abigail Jennings
Born: 16 Feb 1699, Fairfield CT

Marriage (1): Simon Couch on 18 May 1721 in Fairfield CT

Died: 14 Jul 1765
General notes:
Example
Events in her life were: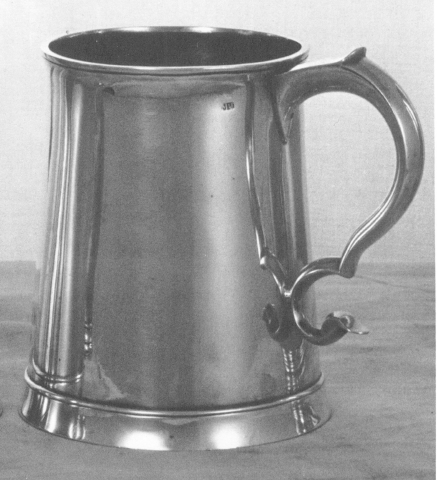 Tankard by Munson Jarvis, c 1765
Congrestional Ecclesiastical Society Green Farms CT 14
h: 4 1/8"
One of a pair. Engraved The / Church of Christ / in / Greenfarms / AD 1765 (in circular cartouche) and A gift to the Church of Christ at Greenfarms by Mrs Abigail Couch A.D. 1765 around base. Abigail Jennings married Simon Couch in 1721; her father was one of the signitories to the first covenant of the church in 1715.
Abigail married Simon Couch on 18 May 1721 in Fairfield CT. (Simon Couch was born on 6 Jul 1697 in Fairfield CT and died on 10 Apr 1770.)