Samuel Brewer
Born: 10 Sep 1818, Middletown CT

Marriage (1): Lucy Southmayd Danforth on 27 Nov 1846 in Hartford CT

Died: Sep 1897
General notes:
Jeweler
Events in his life were:
He was a partner in 1844-1845 with John Danforth in Hartford CT as DANFORTH & BREWER, with a shop in the Exchange Building, 6 State Street. 12
Advertised in the Geer's Hartford City Directory (Hartford CT), 1845,
Danforth & Brewer, Dealers in Clocks, Watches, Jewelry, Fancy Goods, Silver and Plated Spoons, Gold and Silver Spectacles, &c. Watches and Jobs repaired, inferior to none, and warranted to give satisfaction or money refunded. Exchange Buildings, 6 State St.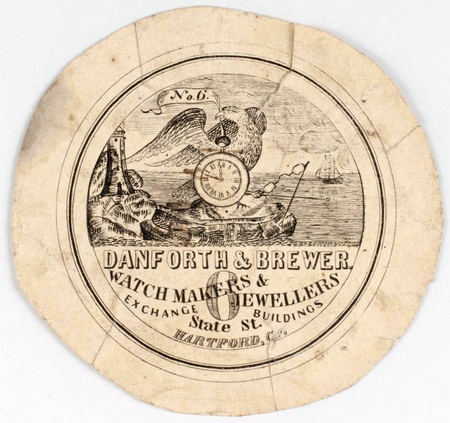 Watch paper for DANFORTH & BREWER, c 1845
American Antiquarian Society

Samuel married Lucy Southmayd Danforth, daughter of William Danforth and Lydia Creamer, on 27 Nov 1846 in Hartford CT. (Lucy Southmayd Danforth was born on 2 Oct 1827 in Middletown CT and died on 17 Feb 1848.)