Enoch Stanton
Born: 15 Sep 1745, Stonington CT

Marriage (1): Waity Dyer

Died: 6 Sep 1781, Fort Griswald CT
General notes:
Silversmith
Events in his life were:

Alternate Mark
This is same mark as above, but the initial E has been damaged and is often read as an I.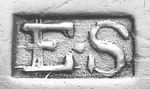 Alternate Mark this mark, formaly given to Stanton, has now been tentative attributed to the Virginia smith, Enoch Sullivan.
Flynt & Fales:, . 3 Lieutenant in the Revolutionary Army, perished in the defense of Fort Griswold at Groton, Sept. 6, 1781, the same day and in the same battle as his brother Daniel. It is recorded that, "He asked for no quarter and no quarter was given. He fought like a tiger and was shot to pieces." His widow and seven children under 13 years of age survived him.
Enoch married Waity Dyer. (Waity Dyer was born in Newport RI and died in 1803.)