Benjamin Hurd
Born: 12 May 1739, Boston MA

Christened: 12 Aug 1739, Boston MA

Marriage (1): Priscilla Crafts on 13 Apr 1774 in Roxbury MA

Died: 2 Jun 1781, Roxbury MA
General notes:
Silversmith and engraver
Events in his life were: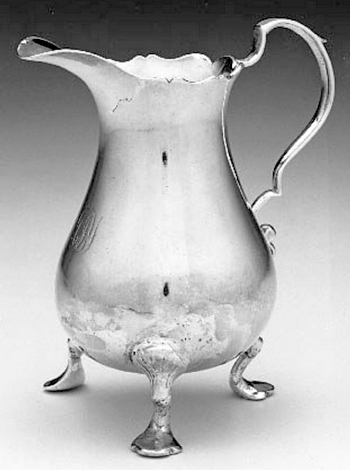 Creampot, c 1755
Museum of Fine Arts, Boston
h: 3 11/16"
He worked circa 1760-1769 as a silversmith and engraver in Boston MA 4
He worked in 1769-1781 as a silversmith and engraver in Halifax Nova Scotia Canada 4
Buhler:, . 10
Like his brother Nathaniel, he followed their father's craft, but was not of age when his father died. He was an engraver as well as a goldsmith. A teapot and baptismal basins in West Roxbury, Massachusetts, and Halifax, Nova Scotia, are among the few pieces, mostly spoons, known today. The basin in Halifax perhaps explains his presence there; his return on August 7, 1769 was noted in the Boston Records, vol. 29, p. 317. Hurd died, apparently intestate, on June 2, 1781 and is buried in the Granary Burial Ground in Boston not far from his brother-in-law, Daniel Henchman. The inventory of his shop tools included "1 Large Spoon Teast / 1 Large Spoon punch / 1 ditto ditto / 1 Child's spoon punch / 4 Tea spoon punch / 1 spoon swage or stake." His "Shop Tools & Furniture" were appraised by Benjamin Burt and Zachariah Brigden; Thomas Clarke and John Hurd were appraisers of the "House Furniture".
Benjamin married Priscilla Crafts on 13 Apr 1774 in Roxbury MA. (Priscilla Crafts was born on 20 Jan 1742 in Roxbury MA and died on 23 Nov 1811 in Boston MA.)