Thomas Steele
Born: 18 Sep 1812, Plainfield CT

Marriage (1): Mary Ritter on 29 Aug 1837 in Hartford CT

Died: 24 Nov 1875, Hartford CT
General notes:
Silversmith, jeweler, and watchmaker
Events in his life were:
He worked in 1836 as a silversmith in Boston MA 4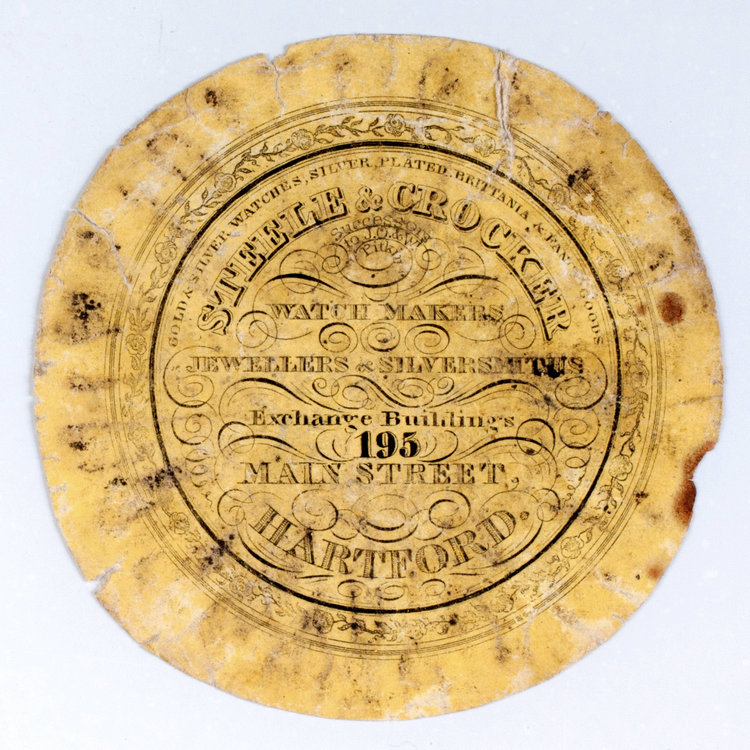 Watchpaper, c 1842
American Antiquarian Society

He worked in 1844-1866 as a silversmith, watchmaker, and jeweler in Hartford CT as THOMAS STEELE & Co, with a shop at 195 Main Street. 4
Watchpaper, c 1845
American Antiquarian Society

Advertised in the Geer's City Directory (Hartford CT), 1845,
Thomas Steele, (late Steele & Crocker,) Dealer in Watches, Jewelry, Gold and Silver Spectacles, Silver Spoons, Plated and Britannia Ware. Exchange Buildings, 195 Main St. Watches of all kinds carefully repaired by experienced workmen, and warranted.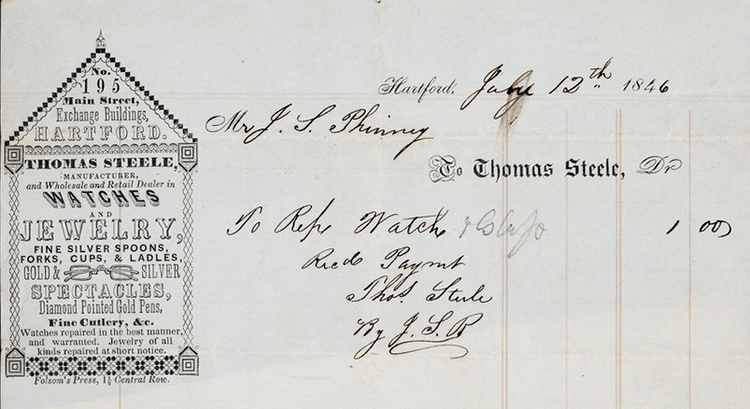 Receipt, 1846
Historic New England

Advertised in the Bangor Daily Whig and Courier (Bangor ME), 18 May 1861, as part of a group endorsement of the Waltham Watch Company.

He was a partner in 1866-1875 with Thomas Sedgwick Steele in Hartford CT as THOMAS STEELE & SON, listed in the 1875 city directory at 340 Main Street. The firm also had an outlet at 50 Boulevard Haussmann, Paris. 4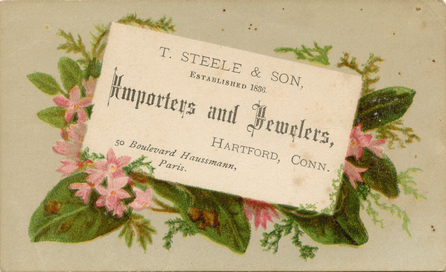 Tradecard, c 1870
Private Collection

Tradecard, c 1870
Private Collection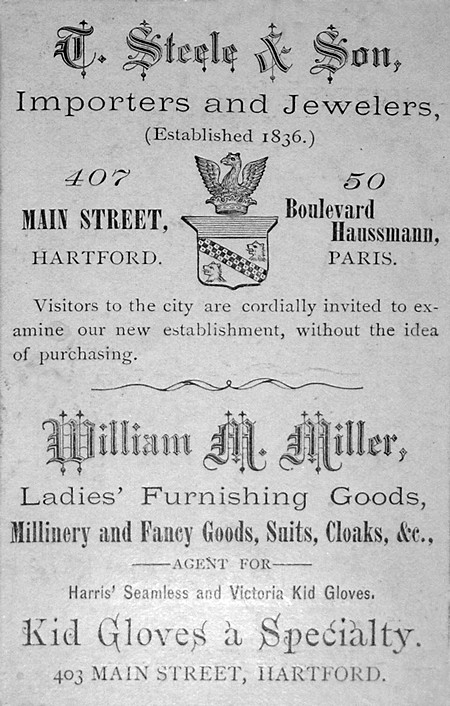 Tradecard, c 1870
Private Collection

Thomas married Mary Ritter on 29 Aug 1837 in Hartford CT. (Mary Ritter was born in 1814 in Hartford CT.)