James Gould
Born: 5 Apr 1795, Beverly MA

Marriage (1): Elizabeth Leach on 3 Dec 1817 in Beverly MA

Died: 15 Jan 1874, Boston MA
General notes:
Silversmith and jeweler
Events in his life were:
He was a partner in 1816-1821 with Hugh Gelston in Baltimore MD as GELSON & GOULD. Their business listed at the corner of Baltimore and South Charles Streets in 1817. The partnership was ended March 30, 1821. 30
He worked in 1821-1855 as a silversmith and jeweler in Baltimore MD opening a jewelry and watch and clock shop at 189 Market Street, moving the next year to 202 1/2 Baltimore Street. 30

He was a partner in 1855-1858 with Abel Stowell and William H. Ward in Baltimore MD as GOULD, STOWELL & WARD, a watch and clockmaking establishment at 168 Baltimore Street. 30
Advertised in the The Sun (Baltimore MD), 6 Feb 1857, dissolution of Partnership.
The partnership of GOULD, STOWELL & WARD having expired
by limitation on the 26th of January, all demands against them will
be paid by JAMES GOULD & WM. H. WARD, who have purchased
the interest of the late firm.
JAMES GOULD
A. STOWELL, JR.
W. H. WARD
----
Co-Partnership
JAMES GOULD & WM. H. WARD have this day entered into
co-partnership, and will continue the business under the name of
GOULD & WARD, at the old stand, 168 Baltimore street.
Baltimore, February 5, 1857.
----
The Undersigned will open th store No. 163 Baltimore st. on the
16th Feb'y, and would respectfully solicit a continuance of the
patronage of his friends and the public.
A. STOWELL, JR.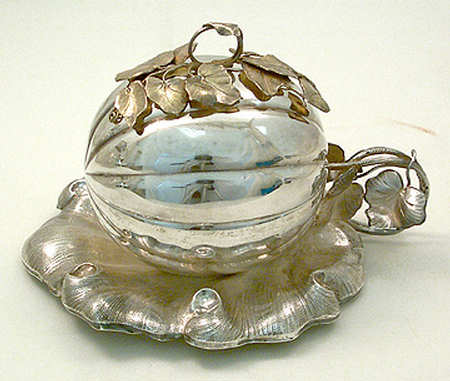 Melon bowl, c 1855
Private Collection
h: 5 1/2"
w: 9"
Marked GOULD, STOWELL & WARD / 10.2


He was a partner in 1857-1864 with William H. Ward in Baltimore MD as GOULD & WARD, continuing at 168 Baltimore Street. 30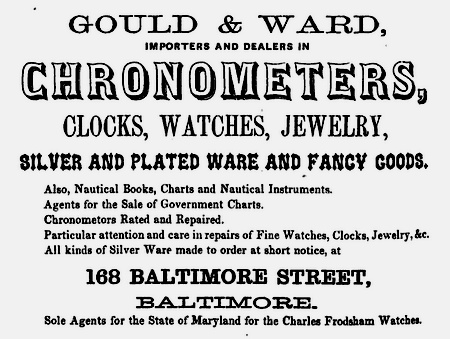 Advertised in the The Great Railway Celebrations of 1857 by Wm Prescott Smith, 1858,
He worked in 1864-1868 as a silversmith and jeweler in Baltimore MD with shop at 169 Baltimore Street. 30
James married Elizabeth Leach on 3 Dec 1817 in Beverly MA. (Elizabeth Leach was born on 8 Jan 1797 in Beverly MA and died on 10 Mar 1859 in Baltimore MD.)