Daniel Balch
Born: 14 Mar 1735, Bradford MA

Marriage (1): Hannah Clements on 19 Aug 1756 in Newburyport MA

Died: 30 Nov 1790, Newburyport MA
General notes:
Clockmaker
Events in his life were:
Advertised in the Essex Journal and Merriinac Packet, 5 Jan 1774,
GARDEN SEEDS
Early garden pease, beans, and seeds of all sorts: red and white Dutch clover and hemp-seed. Dried herbs, viz; sage, balm, marjoram, thyme. summer and winter savoury etc. and all sorts of seeds suitable for the West Indies, to be sold at the Sign of the Clock, Newbury Port.

At the same place may be had the best Eight Day Clocks and Watches, four-timed Chime Clocks and c, made, mended and repaired by Daniel Balch.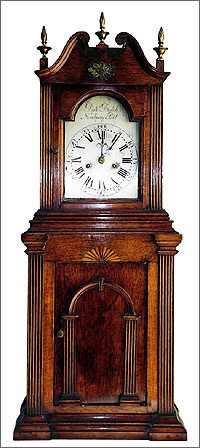 Shelf clock, c 1785
Private Collection
h: 29"
w: 11 3/4"
The dial is engraved Daníl Balch. / Newbury Port
Daniel married Hannah Clements on 19 Aug 1756 in Newburyport MA. (Hannah Clements was born on 29 Jan 1734 in Newburyport MA and died on 10 Oct 1783 in Newburyport MA.)