Gerrit Adamse Onckelbach
Born: 16 Feb 1663, New York City NY

Christened: 17 Apr 1670

Marriage (1): Lysbeth Van Schaick on 10 Sep 1690 in New York

Died: 1732, England
General notes:
Silversmith
Events in his life were:
He worked in 1690-1713 as a silversmith in New York City NY 7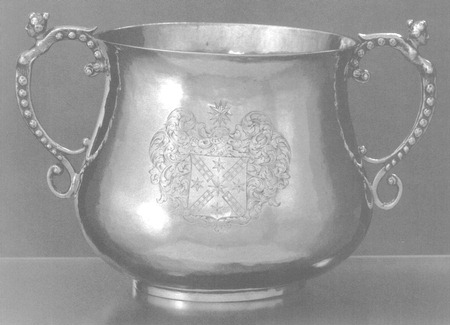 Caudle cup, c 1690-1700
Yale University 13
h: 5 3/4"
d: 3 7/8" (base)
wt: 23 oz, 1 dwt
Engraved with Van Courtland arms. Probably made for Stephanus Van Courtland, who left it to his son, Stephen. A nearly identical cup by Cornelius van der Burch is believed to have been a christening gift to his first son Philip.

Made freeman of New York City NY, 1698. 7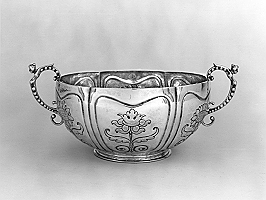 Caudle cup, c 1700-1720
Museum of the City of New York 1
Engraved "MB" on the base for Maria Brockholst and on the inside with arms.
Appointed in 1700-1703 as Assistant Alderman in New York City NY 3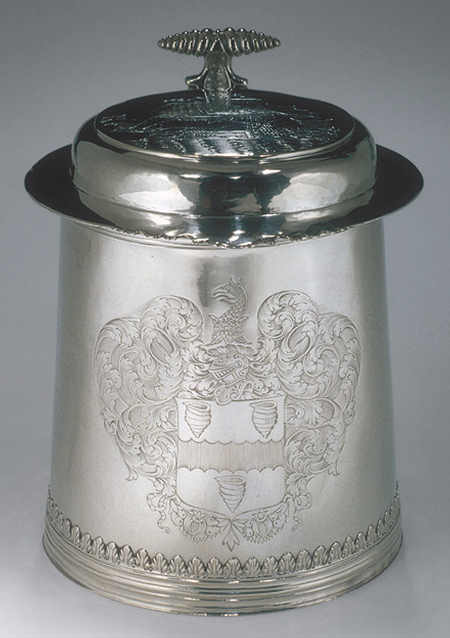 Tankard, 1700-1710
Metropolitan Museum of Art
h: 7 1/2"
d: 5 3/4"
wt: 38.8 oz
1703, New York City NY. 18 Fined for coining and passing counterfeit money. He was named "A Person of Evil fame and Rerputation and hath been Convicted of Coyning the Current Money of this Province and since hath also been Convicted of Champerty."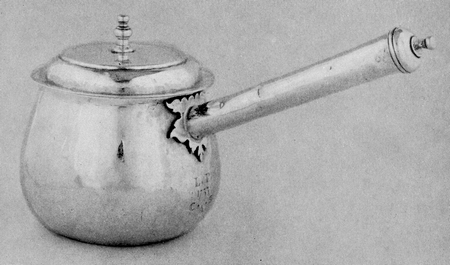 Sauce pan with cover by Jesse Kip, Bef 1722
Private Collection
l: 10 1/2"
Engraved P over I C above a fleur-de-lys for Jean and Catherine (Carre) Pintard and L P over 1733 for Lewis Pintard.
Ensko:, . 8 Left his tankard and tools to grandson Gerrit Van Gelder.
Gerrit married Lysbeth Van Schaick on 10 Sep 1690 in New York. (Lysbeth Van Schaick was born on 10 Dec 1671 in New York City NY and was christened on 10 Dec 1671 in New York.)