Cornelis Kierstede
Born: 25 Dec 1674, New York City NY

Christened: 5 Jan 1675, New York City NY

Marriage (1): Sara Ellsworth on 9 Sep 1702 in New York City NY

Died: 1757, Bergen NJ
General notes:
Silversmith
Events in his life were: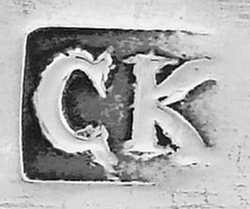 Made freeman of New York City NY, 26 Jul 1698. 18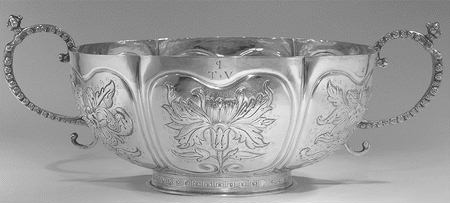 Two-handled bowl, 1700-1710
Metropolitan Museum of Art
h: 5 3/8"
d: 9 11/16" (lip)
wt: 26 oz
Engraved Q over T V for Theunis Jacobsen and Vroutje Janse (Haring) Quick.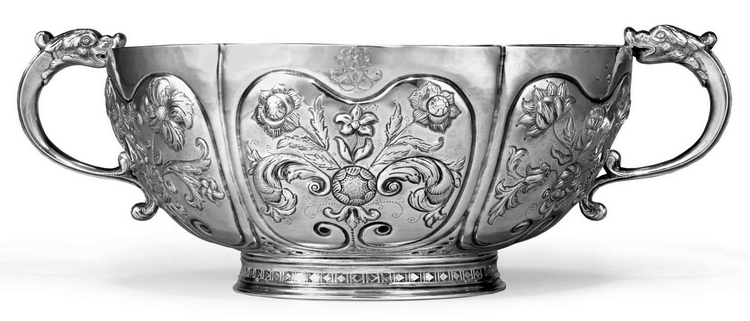 Punch bowl, 1700-1710
Private Collection
dia: 12 1/4"
wt: 66 oz, 8 dwt
The original owner is unknown, but is possibly Abraham de Peyster, Mayor of New York (1692-94). De Peyster's will, probated in 1734, lists "1 large silver Punch Bowl", whose recorded weight approximates that of this bowl.
He worked in 1704-1706 as a silversmith in Albany NY 18
He worked in 1707-1722 as a silversmith in New York City NY 18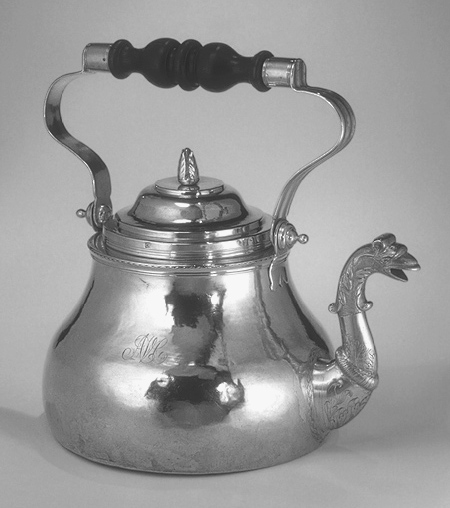 Kettle, 1710-1720
Metropolitan Museum of Art
h: 10 1/8"
d: 7 3/8" (base)
wt: 47 1/2 oz
Made for Elizabeth (de Peyster) Beekman.
Flynt & Fales:, . 3 Went to New Haven, Connecticut in 1724 to investigate copper mining. According to New Haven town records of Sept. 19, 1721, he and Peter and James Ferris leased "copper and other mines except iron mines on the Bleu hils in said New Haven. . . for fifty years"-- providing there was no let-up in mining for more than two years. The venture was unsuccessful, but Kierstede remained in New Haven, his home on the west side of Church Street. A deed dated Apr. 24, 1727, in the New Haven Land Records describes him as a "goldsmith of New York." In 1745 the Yale class of 1746 gave a punchbowl to their retiring tutor, Thomas Darling, which was made by Kierstede. His baptismal basin and two-handled cup in the silver of Church of Christ, Congregational, Milford, and the tankard belonging to Trinity Church, New Haven, attest to his skill as a craftsman, and his distinguishable "Holland Dutch" training in New York. In 1753, the Selectmen placed him in charge of a conservator because of his advanced age and infirmities.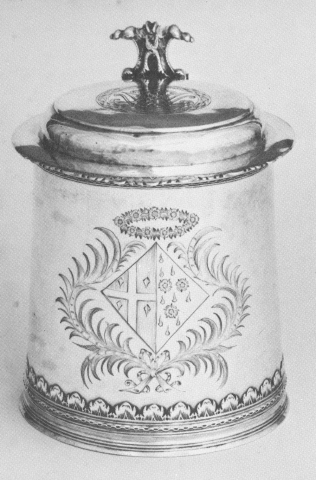 Tankard, c 1725
Winterthur Library 20
h: 7 1/2"
Engraved S over R * J and with the arms of Lady Jane Sill.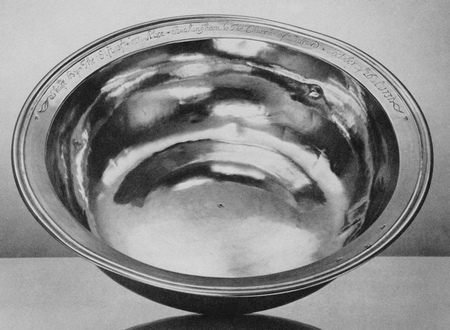 Baptismal basin, 1731
d: 9 7/8"
Engraved halfe : By : The : Gift : of * Mrs Alice * Buckingham : to : the : Church : of : Milford * October : ye 26 : Ao 1731. for Alice Newton who married Daniel Buckingham.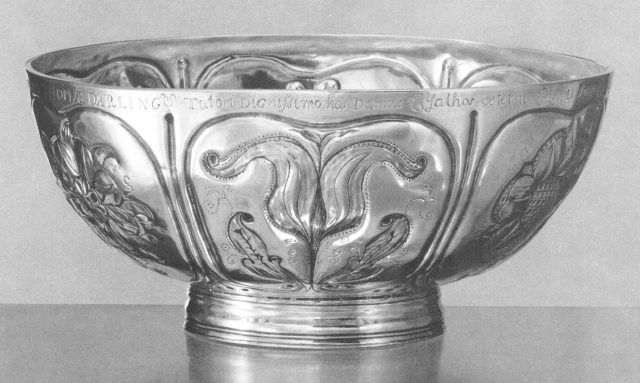 Punch bowl, 1745
Yale University 13
h: 3 3/8"
d: 7 1/2" (lip)
wt: 11 oz, 17 dwt
Domino THOMAE : DARLING Tutori : Dignissimo : hos : Damus Cyathos : aeterni : Pigniis : Amoris Classis : sua 1745 engraved on side at lip; "A Gift to Thomas Darling by his Parents Samuel & Clarinda Darling 1842 added later at lip; Thomas Darling to his son Thomas 1843 at top of one panel. Thomas Darling was a tutor at Yale College in 1743-45. He was the sole instructor of the class of 1746, which presented him with this bowl, the most ornamental piece of plate made in Connecticut. Kierstede's New York origins are fully apparent from this bowl; his two-handled cup with applied, stamped baseband, dated 1729 (First Congregational Church, Milford CT), and a tankard later given to Trinity Church, New Haven CT, have less pronounced New York characteristics. This type of bowl, generally with two cast handles, appears to have been most popular in New York around 1700.
Cornelis married Sara Ellsworth on 9 Sep 1702 in New York City NY. (Sara Ellsworth was born on 27 Mar 1683 in New York City NY.)