Norman Sweet Boardman
Born: 5 Aug 1840, East Haddam CT

Died: 21 Jul 1905, East Haddam CT
General notes:
Pewtersmith and silverplater
Events in his life were:
He worked circa 1860-1887 as a pewtersmith and silverplater in East Haddam CT with his father. 31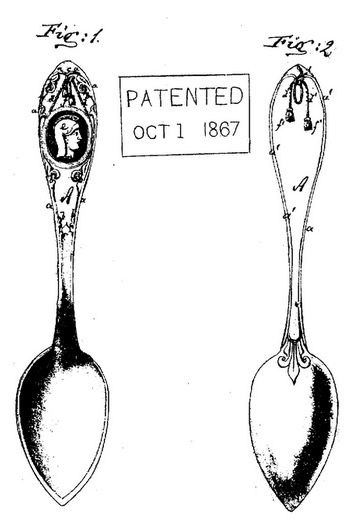 He was issued design patent number 2,794 on 1 Oct 1867

LUTHER BOARDMAN AND NORMAN S. BOARDMAN, OF EAST HADDAM, CONNECTICUT.

DESIGN FOR A SPOON-HANDLE,

TO ALL WHOM IT MAY CONCERN:

Be it known that we, Luther Boardman and Norman S. Boardman, of East Haddam, in the county of Middlesex, and State of Connecticut, have invented a new and improved Design for Spoon and Fork-Handles; and we do hereby declare that the following is a full, clear, and exact description thereof, which will enable others skilled in the art to understand the same, reference being had to the accompanying drawings, forming part of this specification.
Figure 1 represents a front view of a spoon-handle ornamented with our new design.
Figure 2 is a back view of the same.
Similar letters of reference indicate corresponding parts.
This design relates to a new style of ornamenting for the upper part of a fork or spoon-handle, whereby the appearance of the same is greatly improved.
The invention consists in suspending a medallion or other suitable ornament, by means of tassclled cords, from a hook which is formed in arabesques arranged around the edge of the handle. On the back of the handle the tasselled cord is also arranged, being suspended from a hook formed by beaded mouldings arranged around the rim of the handle.
A represents the spoon or fork-handle. Around its edge is arranged, in front, a beaded moulding, a, orna­mented by foliage or arabesques 6, as shown in fig. 1. The beaded moulding does not extend around the upper edge of the handle, but near the same it is turned in from each side, and the two mouldings from the two edges of the spoon are joined, forming a hook, e, at their junction, as shown in fig. 1. From this hook is suspended, by means of a cord or cords, d, an ornamental medallion, e, or any other suitable design, as, for example, a fruit-basket. The ends of the cord are provided with tassels f, as shown. On the back of the handle A a hook, c', is formed, by beaded mouldings a', in a similar manner as on the front of the handle. The beaded mouldings are plain on the back, that is, without arabesques. A tasselled cord, d', is suspended from the hook c', as is clearly shown in fig. 2.
We claim as new, and desire to secure by Letters Patent—
The design for a spoon-handle, substantially as shown and described.

LUTHER BOARDMAN,
NORMAN S. BOARDMAN.

Witnesses:
Geo. S. Richmond,
Jeremiah Ackley.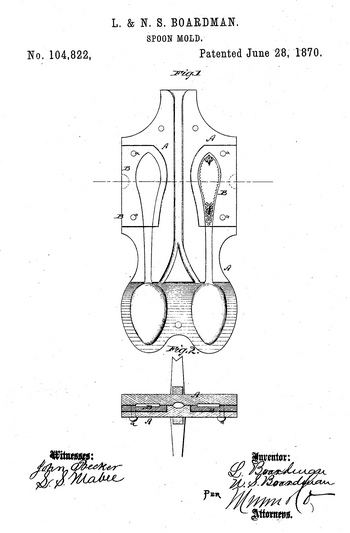 He was issued design patent number 104,822 on 28 Jun 1870

LUTHER BOARDMAN AND NORMAN S. BOARDMAN, OF EAST HADDAM, CONNECTICUT.

Letters Patent No. 104,822, dated June 28, 1870.

IMPROVEMENT IN SPOON-MOLDS.

The Schedule referred to in these Letters Patent and making part of the same

To all whom it may concern: Be it known that we, LUTHER BOARDMAN and NORMAN S. BOARDMAN, of East Haddam, in the county of Middlesex and State of Connecticut, have invented a new and improved Mold for Casting Spoons; and we do hereby declare that the following is a full, clear, and exact description thereof, which will enable others skilled in the art to make and use the same, reference being had to the accompanying drawing forming part of this specification, in which—
Figure 1 represents a face view of our improved mold for casting spoons.
Figure 2 is a transverse section of the same.
Similar letters of reference indicate corresponding parts.
This invention has for its object to reduce the expense of molds for easting spoons of britannia or other metal.
Such molds had heretofore to be specially prepared for every new design or variation of design of the spoon-handle, and their expense was consequently considerable. As the chief variation in the design is mostly in the handle, and frequently only on the face of the handle, we have found it necessary to renew the entire mold whenever a small change took place.
Our invention consists, therefore, in applying to the mold A a removable section, B, which constitutes that part of the mold where the design is most frequently changed. The section B is made of steel, or other suitable material, and is inserted in a recess provided for it in the main mold, so that it will fit flush into and form part of the said mold.
The groove or projections pertaining to the design are continued in the plate B, in the same manner as though the same was made in one piece with the mold. Whenever that part of the design which is engraved on the plate B is changed another such plate is placed into the mold, without requiring any change of the mold itself.
Screws, a a, or other devices, serve to retain the plates B in the molds, and permit their ready removal and replacement.
The invention is equally applicable to single and double molds, and to either or both cheeks or parts of each.
Having thus described our invention,
We claim as new and desire to secure by Letters Patent—
The spoon-mold A, provided with the removable section B, substantially as and for the purpose herein shown and described.

Luther Boardman
Norman S. Boardman

Witnesses:
J. Attwood
J. Ackley
He was issued design patent number 239,139 on 22 Mar 1881

NORMAN S. BOARDMAN, OF EAST HADDAM, CONNECTICUT.

SPOON AND FORK.

Specification forming part of Letters Patent No. 239,139, dated March 22, 1881.
Application filed December 22, 1880. (Model.)

To all whom it may concern:
Be it known that I, NORMAN S. BOARDMAN, of East Haddam, Middlesex county, Connecticut, have invented a new and useful Improvement in Spoons, Forks, and Analogous Articles, of which the following is a specification.
Figure 1 is a plan view of my improvement shown as applied to a spoon; and Fig. 2 is a side view, partly in section, through line x x, Fig. 1.
Similar letters of reference indicate corresponding parts.
The invention consists in combining with the bowl or tines of a spoon or fork a brass wire and glass tip, as hereinafter described.
I will describe the invention as applied to a spoon, but do not limit myself to that use, as it can be applied with equal advantage to other articles of flat table-ware.
A represents the bowl. B the shank, and C the tip, of a spoon. The bowl A is designed to be made of nickel-silver, called also "German silver," or other suitable white-metal, and is formed in the ordinary manner. The shank B is made of brass wire, or other suitable wire, and its end is secured to the bowl A by riveting, soldering, or other suitable means. Upon the other end of the wire shank B is cast, or to it is otherwise secured, the tip C, which is made of Britannia metal or other suitable metal, or of glass, and may be formed in any desired ornamental shape. The spoon is then designed to be silver-plated in the ordinary manner.
With this construction the parts most exposed to wear will remain bright after the plating has been worn through, so that the article will retain a presentable appearance.
By this construction the labor of making the articles, the amount of metal required, and the quantity of scrap formed will be greatly reduced, and the expense of grading-rolls for shaping the blanks, cutting-dies for forming the articles, and stamping-dies for shaping and ornamenting the articles will be avoided, so that the expense of manufacture will be greatly reduced.
I am aware that in plated ware a bowl has been connected with a wooden tip by a wire, which is doubled and twisted to form a screw, that forms its own thread in the wooden tip, so as to hold it; but the tip is not plated, and cannot be cast on the end of the shank, as is done by me.
What I claim as new is—
The combination, with the bowl, of a single smooth wire soldered to said bowl at one end, and provided at the other with a tip cast thereon, as described.

Norman S. Boardman

Witnesses:
James T. Graham
C. Sedgwick