Richard Humphreys
Born: 13 Feb 1750, Tortula Island, BWI

Marriage (1): Ann Morris on 16 Jun 1774 in Philadelphia PA

Marriage (2): Hannah Elliott on 28 Feb 1771 in Philadelphia PA

Died: 5 Feb 1832, Philadelphia PA
General notes:
Silversmith
Events in his life were: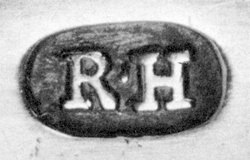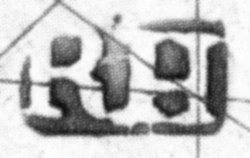 He worked in 1772-1796 as a silversmith in Philadelphia PA 4
Advertised in the Pennsylvania Gazette, 23 Sep 1772, announcing "Richard Humphreys, Goldsmith. Having taken the house in which Philip Syng, lately dwelt, hereby informs his friends and the public, that he now car­ries on the Goldsmith's Business in all its branches at the aforesaid place, a few doors below the Coffee-house, where he has for sale, a neat and general assortment of Gold and Silver Ware.—Richard Humphreys"
"The subscriber having lately removed into Upper Merion township, hereby informs his friends and former customers, that they may be supplied as usual, at his late dwelling, by the above named Richard Humphreys, whom he hereby recommends to them, as a person qualified to serve them on the best terms, and whose fidelity in the above business will engage their future confidence and re­gard.—Philip Syng."
Master to John Myers 1773-1778 in Philadelphia PA. 4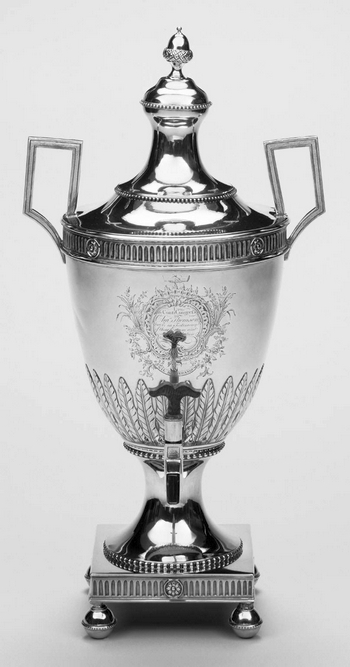 Urn, 1774
Philadelphia Museum of Art
Commissioned by the Continental Congress for presentation to Charles Thomson. The engraving was done by James Smithers.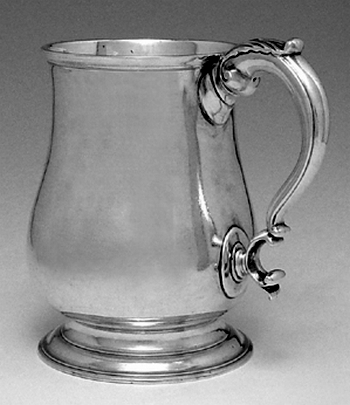 Mug, c 1775
Private Collection
h: 5 3/16''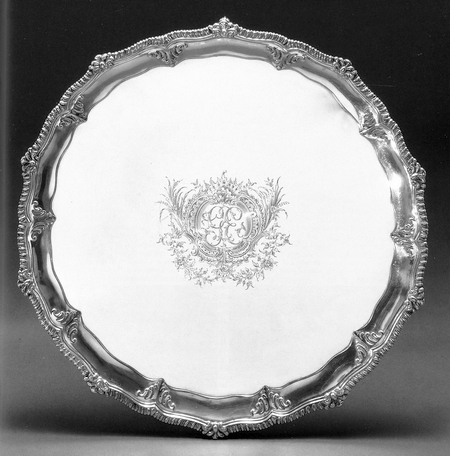 Salver, c 1775
Private Collection
d: 16 1/2"
wt: 47 oz
Engraved with a monogram G E in a rococo cartouche for George Emlen. The style and quality of the engraving is nearly identical to that on the Tompson urn shown above, suggesting that this piece was also engraved by James Smithers. In addition to this piece, Emlen also ordered a coffeepot, a tankard, three sauce boats, a pair of canns, and a 7 1/4" waiter.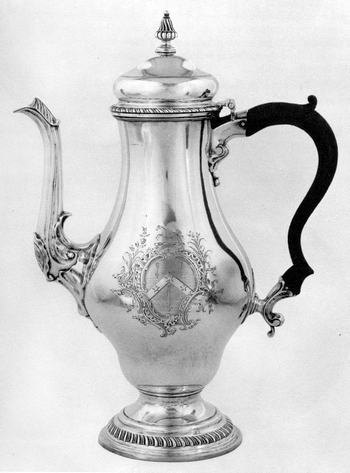 Coffeepot, c 1780
Museum of Fine Arts, Boston
h: 13 9/16"
d: 4 1/2" (base)
wt: 38 oz 13 1/2dwt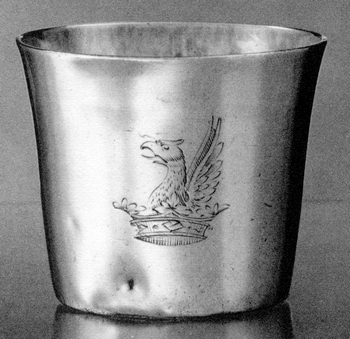 Cup, 1780
Yale University
h: 1 11/16"
d: 2" (at lip)
wt: 1 oz 3 dwt
Engraved with the crest of George Washington. This cup is referred to in the following bill:



 25th June, 1780
Col: Clement Biddle
 Bot of Richard Humphreys
oz.
 dwt.
 2 Dozn. Table Spoons
Wt. 49
 6
34—3—9
 Half a Dozn. Large
Camp Cups
29
22—1
 2 Small do do
2
 6
 2—10—9
 Engraving as pr Bill

 2—16—


---

61—11—6
By 19 of Old Silver @

 8/6 pr. oz

 8—1—6


---

53—10—

At his death, his estate was valued at more than $108,000. In addition to his silver work, he was involved in the China trade and had inherited interests in the family estates in the West Indies. He left a $10,000 endowment for the foundation of Cheyney University, a teaching school for African Americans.
Richard married Ann Morris on 16 Jun 1774 in Philadelphia PA.
Richard next married Hannah Elliott on 28 Feb 1771 in Philadelphia PA. (Hannah Elliott was born on 3 Oct 1750 in Leicester Leicestershire England, died in 1773 in Philadelphia PA and was buried on 17 Feb 1773.)