Peleg Collins
Born: 11 May 1798, Foster RI

Marriage (1): Mary R. Smith on 23 Aug 1821
General notes:
Silversmith, jeweler, and watchmaker
Events in his life were: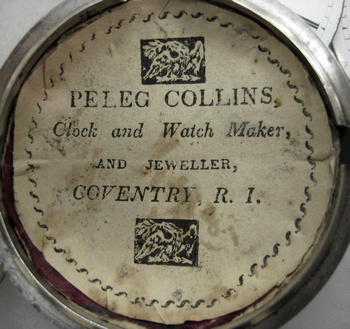 Watch paper
Private Collection




He was a partner in 1843-1847 with Nathan Lord Hazen in Cincinnati OH as HAZEN & COLLINS with a shop on Main betwenn 4th and 5th Street. 4


Advertised in the Cist's Daily Advertiser (Cincinnati OH), 1846, as partner in HAZEN & COLLINS, jewelers, watchmakers, and dealers in fancy goods. 4
Peleg married Mary R. Smith on 23 Aug 1821.