Epes Sargent
Born: 12 Jul 1690, Gloucester MA

Marriage (1): Esther MacCarty on 1 Apr 1720 in Gloucester MA

Marriage (2): Catherine Winthrop on 10 Aug 1744 in Boston MA

Died: 6 Dec 1762, Salem MA
General notes:
Portrait
Events in his life were: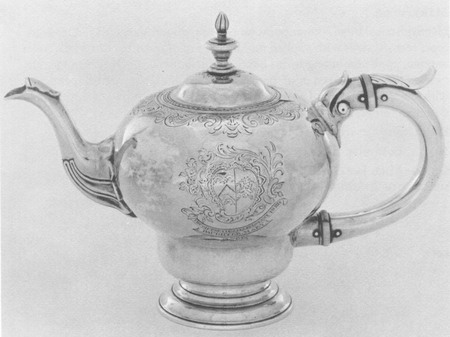 Teapot by Zachariah Brigden, 1760
Museum of Fine Arts, Boston 10
h: 6"
d; 2 3/4" (of base)
wt: 17 oz, 19 dwt
Engraved "The. Gift. of. Coll : Epes. Sargent. to. his. / daughter. Mary." for Mary Sargent who died at boarding school the same year this piece was made.
Epes married Esther MacCarty on 1 Apr 1720 in Gloucester MA. (Esther MacCarty was born on 21 Jul 1701 in Boston MA and died on 1 Jul 1743 in Gloucester MA.)
Epes next married Catherine Winthrop, daughter of Unknown and Ann Dudley, on 10 Aug 1744 in Boston MA. (Catherine Winthrop was born on 9 Mar 1711 in Boston MA and died in 1781.)