Stephanus Van Cortlandt
Born: 4 May 1643, New York City NY

Christened: 7 May 1643, New York City NY

Marriage (1): Gertrude Schuyler on 10 Sep 1671

Died: 25 Nov 1700, New York City NY
General notes:
Mayor of New York City
Example
Events in his life were: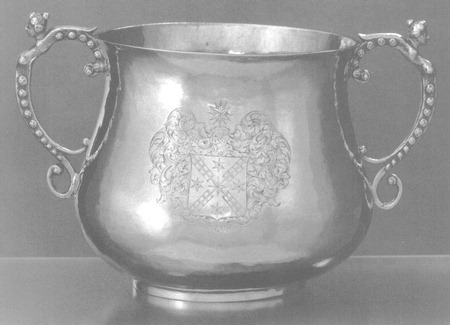 Caudle cup by Gerrit Adamse Onckelbach, c 1690-1700
Yale University 13
h: 5 3/4"
d: 3 7/8" (base)
wt: 23 oz, 1 dwt
Engraved with Van Courtland arms. Made for Stephanus Van Courtland, who left it to his son, Stephen. A nearly identical cup by Cornelius van der Burch is believed to have been a christening gift to his first son Philip.
Stephanus married Gertrude Schuyler, daughter of Philip Schuyler and Margareta Van Slichtenhorst, on 10 Sep 1671. (Gertrude Schuyler was born on 4 Feb 1654 in Albany NY and died circa 1719.)