Miles Gorham
Born: 13 Jul 1747, New Haven CT

Christened: 5 Sep 1756, New Haven CT

Marriage (1): Abigail Morris on 20 Mar 1776 in New Haven CT

Died: 13 Jul 1847, New Haven CT
General notes:
Silversmith
Events in his life were:



He worked in 1790-1840 as a silversmith in New Haven CT
His shop was on the west side of York Street, perhaps between Chapel and Crown Streets. 3
Advertised in the Connecticut Courant & Weekly Advertiser (New Haven CT), 7 Mar 1805-28 Mar 1805, offering his services as a gold- and silversmith. 4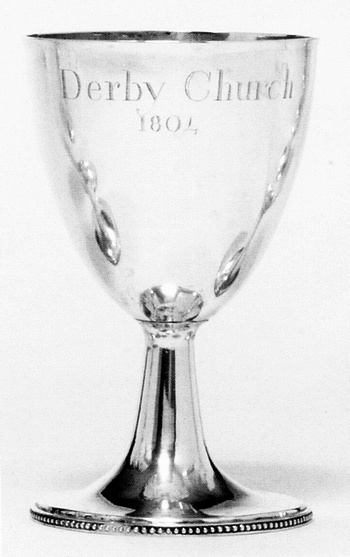 Cup (one of six), 1804
Private Collection
h: 5 5/8"
wt: 5 oz, 15 dwt
Engraved "Derby Church / 1804".
Miles married Abigail Morris on 20 Mar 1776 in New Haven CT. (Abigail Morris was born on 1 Sep 1754 in New Haven CT and died in Apr 1835 in New Haven CT.)