Allyn Goodwin
Born: 5 Aug 1797, Hartford CT

Marriage (1): Emily Fenn on 10 Nov 1822 in Hartford CT

Died: 7 Jan 1869, Hartford CT
General notes:
Silversmith, jeweler, and silverplater
Events in his life were:


He was a partner in 1821-1825 with Horace Goodwin in Hartford CT as H. & A. GOODWIN 3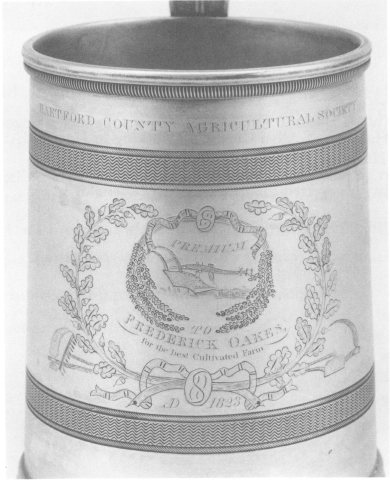 Mug, c 1823
Private Collection 14
h: 4 1/2"
Inscription HARTFORD COUNTY AGRICULTURAL SOCIETY above upper decorative band; PREMIUM / TO / FREDERICK OAKES / for the best Cultivated Farm / Æ 1823
Frederick Oakes (1782-1835) worked in Hartford as a gold and silversmith, clock and watchmaker and jeweler from c. 1803 on, usually in partnership with another craftsman until 1820, after which date he worked alone. He was also active in the real estate business, and was a gentlemen farmer. He created a prize-winning farm in West Hartford, for which he received this mug from the Hartford County Agricultural Society, one of a number of prizes which he won up to 1829 while a member of the Society.
He worked in 1825-1867 as a silversmith, jeweler, and silverplater in Hartford CT
City directories list him variously as a silversmith and jeweler. In 1851 he is listed as a "pistol plater," doing contract work for gun manufacturers like Colt Arms. From 1852 to 1867, he is listed as an electroplater.
Allyn married Emily Fenn on 10 Nov 1822 in Hartford CT. (Emily Fenn was born on 4 Apr 1798 in Plymouth CT and died on 5 Apr 1878 in Hartford CT.)