Gawen Brown
Born: 1719, England

Marriage (1): Mary Flagg on 5 Apr 1750 in Boston MA

Marriage (2): Elizabeth Byles on 3 Jul 1760 in Boston MA

Died: 8 Aug 1801, Boston MA
General notes:
Clockmaker
Events in his life were:
He worked in 1749-1801 as a clock and watchmaker in Boston MA
Listed in the 1800 city directory on George Street.
Advertised in the Boston Evening Post (Boston MA), 16 Jan 1749,
"This is to give Notice...that Gawen Brown, Clock and Watchmaker lately from London, keeps his shop at Mr. Johnson's Japanner, in Brattle-Street, Boston, near Mr. Cooper's Meeting House, where he makes and sells all sorts of plain, repeating (for convenience at night, it will strike the last hour upon command), and astronomical Clocks, with Cases, plain, (imported) black walnut, mahogany, or Japann'd, or without; likewise does all Sorts of Watch Work in the best Manner and sells all sorts of Clock Strings, London Lacker, and white Varnish for Clocks, a great variety of Files for Clock Works, Glasses or Crystalls, Keys, Strings, Pendants for Watches, &c."

Tall case clock, c 1760-1770
Old Sturbridge Village
h: 88 1/8"
w: 20 1/2"
Brass and steel, eight-day movement with rack and snail strike; weight powered; brass dial with applied silvered chapter ring, maker's boss, decorative boss with figure of Father Time and spandrels; hour ring has the hours in Roman numerals with every fifth minute designated in Arabic; spandrels on the square of the dial are in the design of urns filled with flowers and flanked with spread eagles and scrolls; convex boss in the arch of dial is engraved with a winged figure of Father Time standing on the earth and holding a scythe in the right hand and an hour glass in the left; he is framed in an engraved border of overlapping semi-circles; applied spandrels in the form of Dolphins support the boss of Father Time; finely pierced steel hands; cherry case which was probably stained or painted dark to resemble mahogany; double molded base, arched molded waist door, removable arched hood with ogee pediment, turned pillars and glazed arched door; "Gawen Brown/King Street/BOSTON" engraved in cartouche on dial; daily calendar shows through an aperture below the cartouche.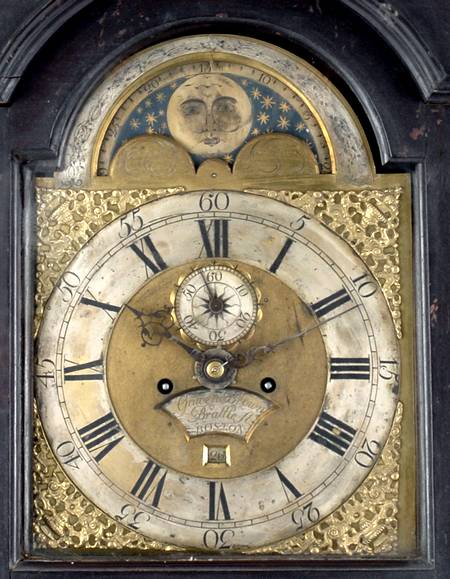 Tall case clock, c 1760
Private Collection
h: 92"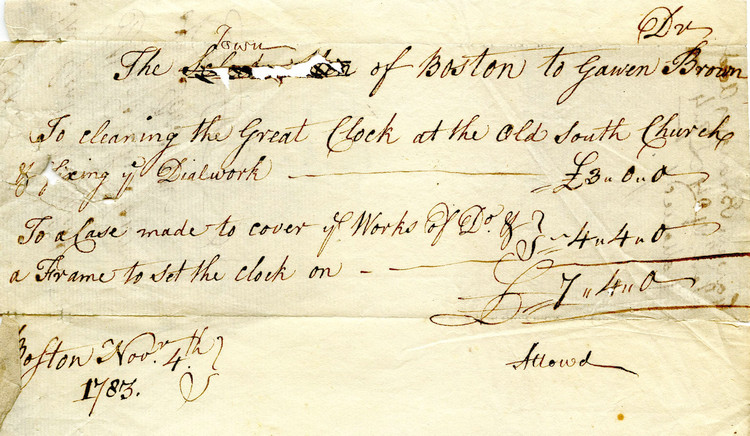 Receipt, 4 Nov 1783
Winterthur Library

Gawen married Mary Flagg, daughter of Unknown and Unknown, on 5 Apr 1750 in Boston MA. (Mary Flagg was born on 18 Mar 1727 in Boston MA and died before Jul 1760 in Boston MA.)
Gawen next married Elizabeth Byles on 3 Jul 1760 in Boston MA. (Elizabeth Byles was born on 22 Mar 1737 in Boston MA and died on 6 Jun 1763 in Boston MA.)