Jean Hastier
Born: 31 Dec 1691, New York City NY

Christened: 1 Jan 1692, New York City NY

Marriage (1): Elizabeth Le Boyteaux

Died: 16 Dec 1770, New York City NY
General notes:
Silversmith
Events in his life were: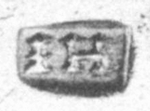 He worked circa 1720-1758 as a silversmith in New York City NY 28
Master to Christopher Robert 8 May 1723 in New York City NY.
To run a term of seven years, the indenture was witnessed by Elias Pelletreau. 18
Made freeman of New York City NY, 29 Mar 1725. 28
Tankard, c 1730-1750
Yale University
h: 6 11/16"
Advertised in the New York Journal (New York City NY), 1735, his location on Queen Street. 8
Advertised in the The New-York Gazette (New York City NY), 6 Mar 1739,
"On Saturday the 24th of February ult. Samuel Flud, alias Flood came with one Joseph Steel to the House of John Hastier of this City, Gold-smith and desired to be with him in private, who accordingly went into a Room, and Flud produced to him a Five Shilling Bill of New Hampshire, and asked him if he could engrave a Copper-plate for him like that? who answered, That he could. Flud desired that he would be expeditious about it, and he would reward him handsomly; and said, he would call again on Monday Morning following, and so Flud & Steel departed. Whereupon Mr. Hastier went immediately to a Magistrate and acquainted him of the Case, who desired Hastier to give notice when Flud came to him again, that he might be apprehended. He accordingly came again, with the said Steel, to the Goldsmith on Monday Morning, and said, he was glad that he had met with a Workman for his Turn; He brought a Ten Shilling Rhode-Island Bill, and bespoke a Plate for that also, promising the Gold-smith, that he should be well rewarded, he should have Money enough, and he would supply him with those Bills. But the Goldsmith having given Notice to the Magistrate, that those Men were at his House, they were immediately apprehended; and upon Examination there were found in Steel's Possession eleven Counterfeit Five Pound Rhode Island Bills, and afterwards two more of the same sort were discovered, which Steel had passed & Changed that Morning."
Advertised in the The New-York Gazette or the Weekly Post-Boy (New York City NY), 15 May 1758,
"Run away on Monday last from John Hastier, of this City, Goldsmith, a lusty well-set Negro named Jasper." 8
Obituary printed in the New York Gazette and the Weekly Mercury (New York City NY) on 24 Dec 1770 28
Recording that "John Hatier" of New York City had died "Last Sunday week" in his 79th year.
In his will, he called for all the tools and implements of his trade to be sold and the monies paid out to his surviving daughters and grandson. An advertisement in the New-York Gazette-Mercury for 4 March 1771 stated that John Hastier's goods and possessions were for sale at his home on Hanover Square. The unsupported proposition that his daughter Marguerite continued the work of his shop was first floated by Robert Ensko in 1927 and adopted without question by later authors.
Jean married Elizabeth Le Boyteaux. (Elizabeth Le Boyteaux was born on 24 Sep 1691 in New York City NY and was christened on 29 Sep 1691 in New York City NY.)