Cornelius Bradford
General notes:
Pewtersmith
Events in his life were:
He worked in 1752-1753 as a pewtersmith in New York City NY 11
Advertised in the The New-York Mercury (New York City NY), 13 Nov 1752,
"To be Sold, By Cornelius Bradford, at his Father's House, in Hanover Square, Pig and Bar Iron, by the Ton, or otherwise; Iron Chimney Backs and Cart Boxes; iron Weights from 56 lb. to 7 lb fixed or unfixed. Pewter, by the wholesale or retail, to be sold at the above House; and ready Money given for old Pewter and Brass."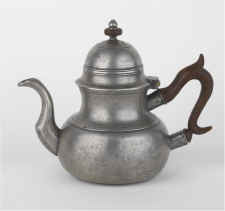 Teapot, c 1752
Private Collection
h: 7"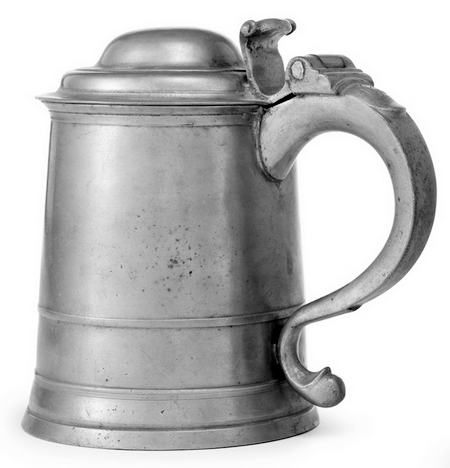 Tankard, c 1752
Private Collection
h: 6 3/4"
Engraved "Morgan Williams" on inside of lid.
He worked in 1753-1770 as a pewtersmith in Philadelphia PA 11
Advertised in the Pennsylvania Gazette (Philadelphia PA), 14 Oct 1756, To be sold by Cornelius Bradford, Pewterer:
At the sign of the Dish in Second St. opposite the sign of the George wholesale or retail at the most reasonable rates all sorts of pewter ware, viz: Dishes and plates of all sizes, basons, tankards, quart and pint mugs, porringers, tea pots, sugar pots, cullanders, bed pans, stool-pans, half pint and gill tumblers, wine measures, salt sellers, spoons, milk pots, pint and half-pint dram bottles, slop bowls and all sorts of other pewter.

Said Bradford makes the best of pewter or block-tin worms, of all sizes for distilling, as shall be ordered, as also cranes for hogsheads or bottles, candle molds of different sizes. All persons may have pewter mended at a reasonable price, and ready money given for old pewter or exchanged for new. 11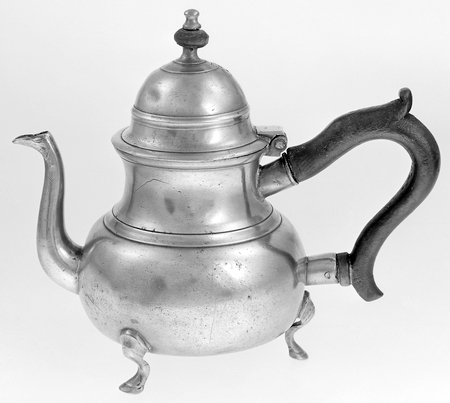 Teapot, c 1760
Winterthur Library
h: 7 1/4"
d" 4 1/2"
He worked in 1770-1785 as a pewtersmith in New York City NY 11