Seraphim Masi
Born: 1797, Frascati Italy

Marriage (1): Catherine Agnes Bradford on 8 Nov 1825

Died: 27 Feb 1884
General notes:
Silversmith and jeweler
Events in his life were:


Quimby:,. A chalice, paten and baptismal bowl bearing the S. MASI stamp were presented to Christ Church in 1826; they were still owned by the church in 1979. A spur with Masi's stamp, owned by Wilmer McLean (at whose house in Appomattox, Virginia, Lee surrendered to Grant) is now owned by Appomattox County Courthouse National Historical Park. In 1825, Masi was paid $100 for a die of the great seal of the United States, and he is known to have made a number of skippets. Masi is known to have placed his stamp on silver made by others. A coffeepot and teapot, now in the DAR Museum and probably made by Fletcher & Gardiner, bear the Baltimore pillars stamp, a Baltimore date letter and Masi's stamp. 7
He worked in 1822-1870 as a silversmith and jeweler in Washington DC
Listed in the 1827 city directory on the north side of Pennsylvania Avenue beween 4 1/2 and 6 West.
Advertised in the Washington Directory (Washington DC), 1822, as a 'Watchmaker and Jeweler' who sold silver work, spectacles and 'a variety of other fancy goods.' 7
Treaty Seal of the United States, 1825
National Archives Washington DC 48
"The United States did not begin to use pendant seals until 1815 (on the instrument of ratification of the Treaty of Ghent), and then it used the die of the 1782 seal to make the wax impressions. But its small size compared unfavorably with the impressive European pendants. Seraphim Masi of Washington, DC, was asked to design a special treaty seal. He produced an elegant and graceful design, quite in contrast to the 1782 seal, and 4-11/16 inches in diameter. He didn't follow the official description of 1782 closely but produced a realistic, uncrested eagle turned slightly to one side, as though resting on the branch of an olive tree. He clearly defined 13 arrows, made the shield narrower and more pointed and altered its crest, and centered the motto, E Pluribus Unum, over the eagle's head. This beautiful seal was used for treaties until 1871, when the government ceased using pendant seals and retired the die. It is available for viewing in the National Archives."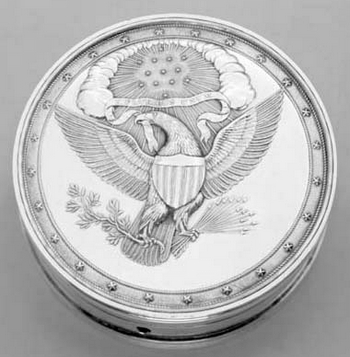 Skippet, c 1840
Washington DC
d: 5 3/16"
wt: 19 oz, 12 dwt
Unmarked, but attributed to Masi, who had the goverment contract at the time of its making.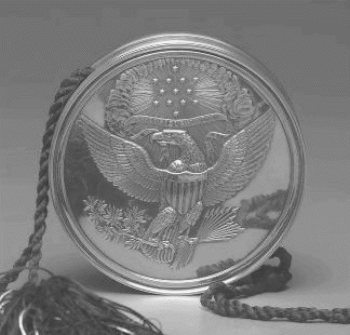 Skippet, 1845-1870
Fine Arts Museums of San Francisco

Seraphim married Catherine Agnes Bradford on 8 Nov 1825. (Catherine Agnes Bradford was born on 8 Aug 1805 in Alexandria VA and died on 27 Feb 1884.)