John Belknap Jones
Born: 3 Aug 1782, Farmington Middlesex MA

Marriage (1): Alexandrine Maria Bond on 29 Oct 1809 in Boston MA

Died: 7 May 1854, Roxbury MA
General notes:
Silversmith and jeweler
Events in his life were: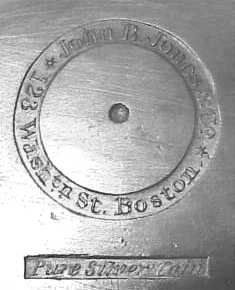 He was a partner in 1816-1820 with Jabez Baldwin in Boston MA as BALDWIN & JONES, having purchased the business of John MacFarlane. Working at 59 Cornhill and later on Market Street. 3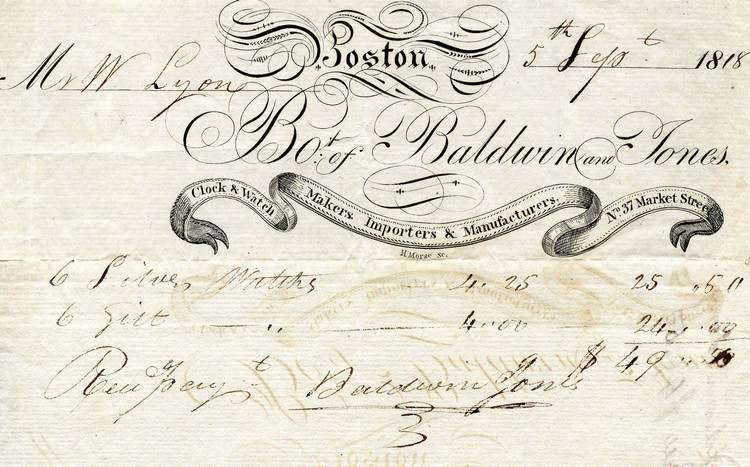 Receipt, 5 Sep 1818
Winterthur Library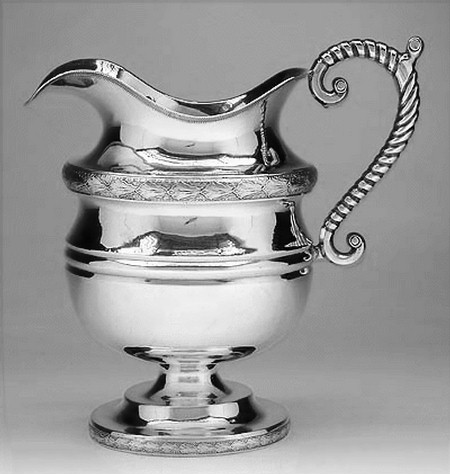 Water pitcher by BALDWIN & JONES
Private Collection
h: 9 1/2"
w: 9 1/2" (including handle)
wt: 26.70 oz.
Engraved on bottom "G.H. to Mary C. Shannon 1851" and "M. S. W. 1901"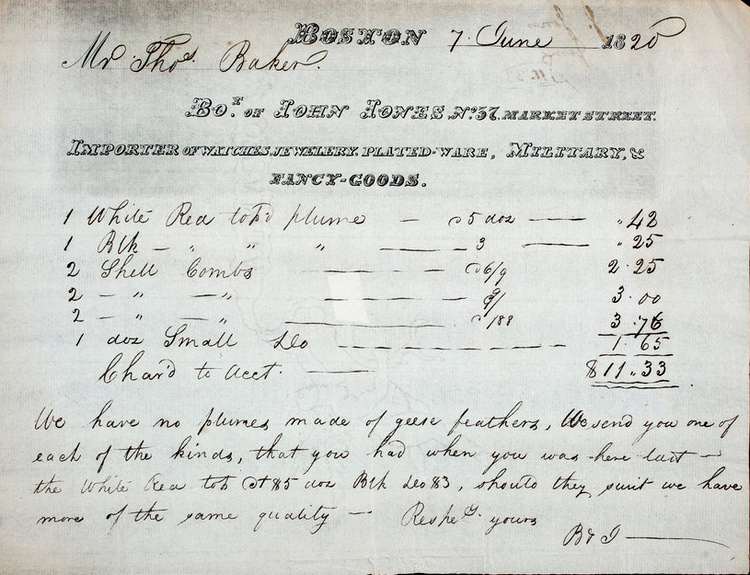 Receipt, 1820
Historic New England

He worked in 1821-1832 as a silversmith and jeweler in Boston MA from his father's old shop at 37 Market until 1828, then at 123 Washington Street. Listed in various directories as an importer, jeweler, and manufacturer of silver plate. 3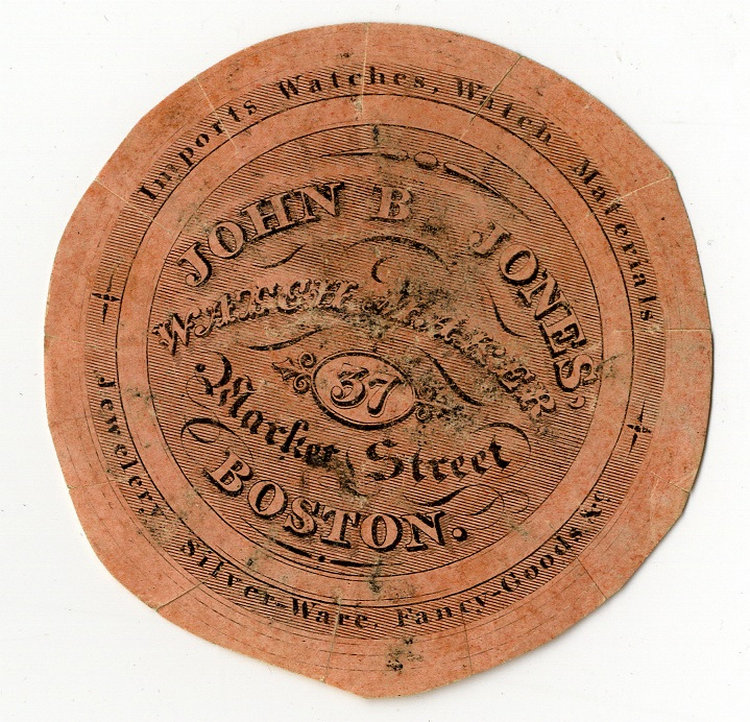 Watch paper, c 1825
American Antiquarian Society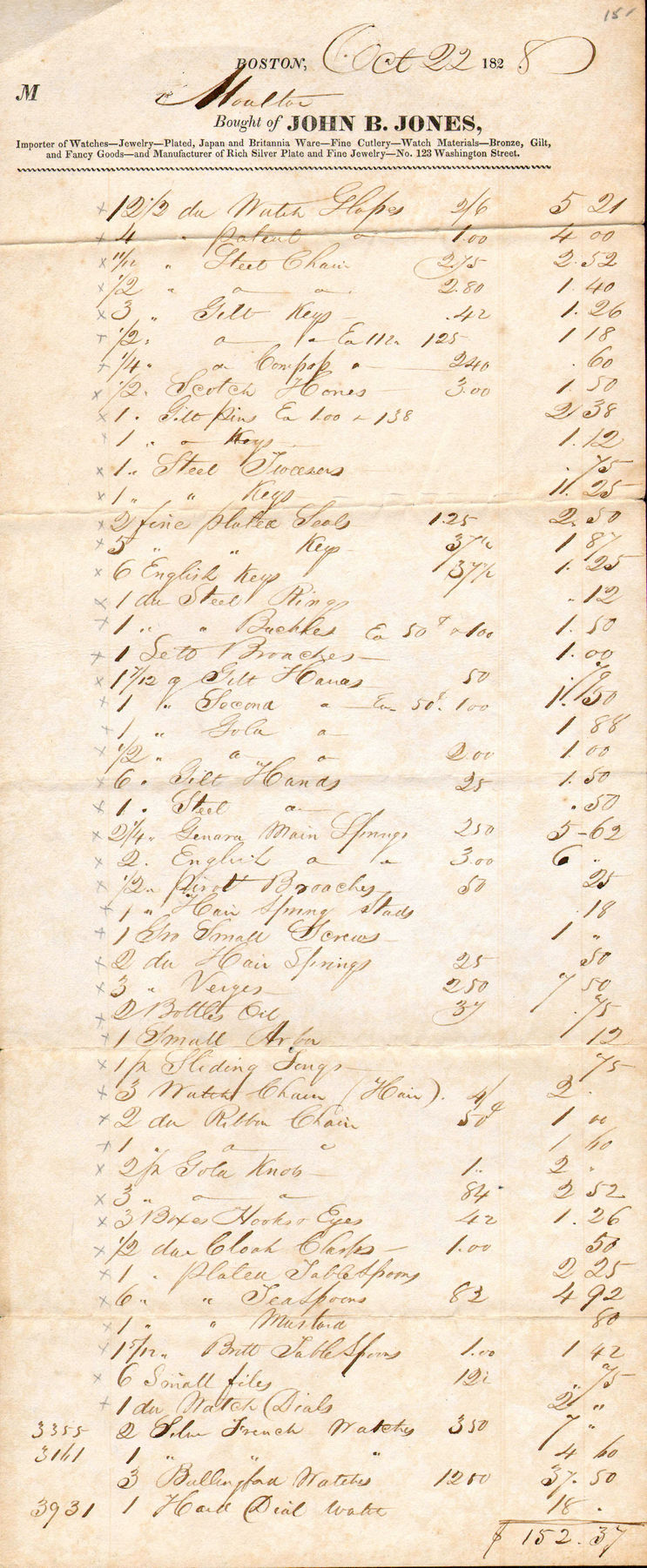 Receipt, 22 Oct 1828
Winterthur Library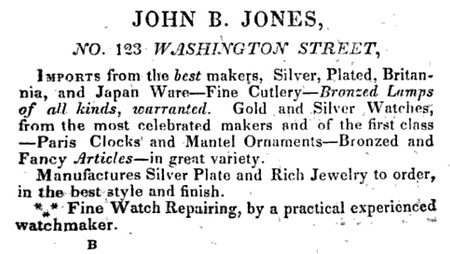 Advertised in the Stimpson's Boston Directory (Boston MA), 1832,


He was a partner in 1839-1846 with Francis Lows, John J. Lows and Trustworthy M. Ball in Boston MA as JONES, LOWS & BALL 3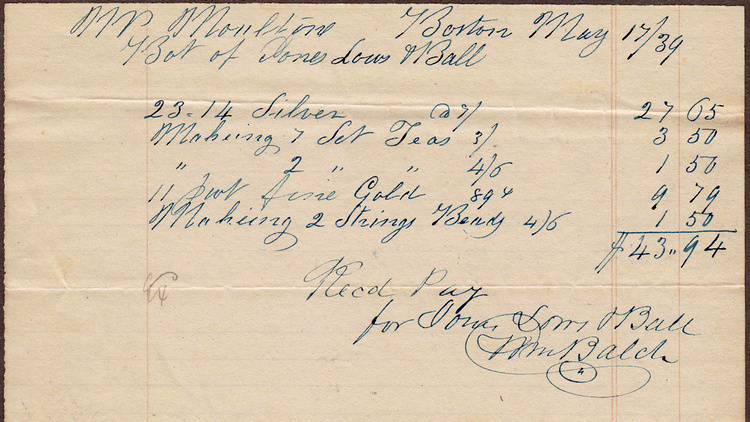 Receipt from JONES, BALL & LOW
Private Collection


Wm Moulton
Bot of Jones Lows & Ball
Boston May 17/39

23.14 Silver
@9/
27.65
Making 7 Sets Teas
3/
3.50
" 2 " "
4/6
1.50
11 DWT fine Gold
89c
9.79
Making 2 Strings Beads
4/6
1.50
   
$43.94

Recd Pay
for Jones, Lows & Ball
Wm Balch
Boston MA, 1845-1856: working as treasurer of the East Boston Company. 4
John married Alexandrine Maria Bond on 29 Oct 1809 in Boston MA. (Alexandrine Maria Bond was born on 8 Sep 1788 in Paris France and died on 28 Feb 1863 in Roxbury MA.)