Nathan Lord Hazen
Born: 23 May 1809, Worthington MA

Marriage (1): Hannah Jeanette Twichell on 28 Oct 1834 in Cincinnati OH

Died: 17 Dec 1851, Cincinnati OH
General notes:
Silversmith
Events in his life were:



He worked in 1829-1830 as a silversmith in Troy NY 4
He worked in 1831-1843 as a silversmith in Cincinnati OH with a shop on 9th, between Main and Walnut Streets. 4
Advertised in the Cincinnati Daily Gazette (Cincinnati OH), 1831-1851, both alone and as partner in HAZEN & COLLINS. 4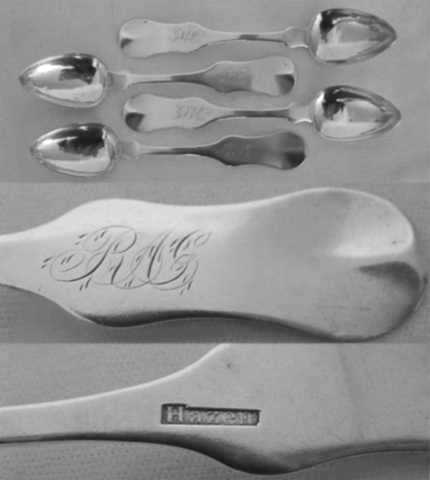 Teaspoons, c 1835
Private Collection
l: 5 7/8"


He was a partner in 1843-1847 with Peleg Collins in Cincinnati OH as HAZEN & COLLINS. 4


Advertised in the Cist's Daily Advertiser (Cincinnati OH), 1846, as partner in HAZEN & COLLINS, jewelers, watchmakers, and dealers in fancy goods. 4
He worked in 1847-1851 as a silversmith in Cincinnati OH
With a shop at 157 Main Street. He sold out to Henry Bliss. 4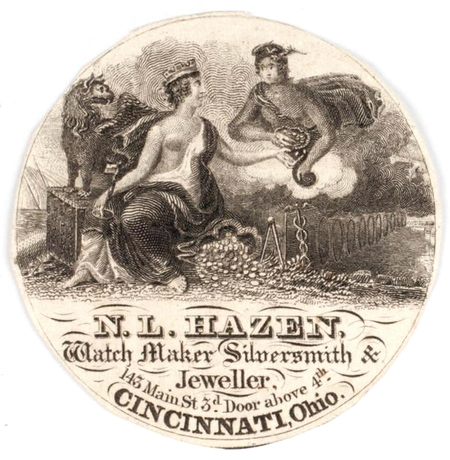 Watch paper, c 1850
American Antiquarian Society

Nathan married Hannah Jeanette Twichell on 28 Oct 1834 in Cincinnati OH. (Hannah Jeanette Twichell was born on 13 Nov 1813 in Norwich NY and died on 3 Aug 1891 in Cincinnati OH.)