William Hookey
Born: Abt 1728, Newport RI

Marriage (1): Mary Wightman on 17 Apr 1760 in Newport RI

Died: Bef 13 Jun 1812, Newport RI
General notes:
Silversmith
Events in his life were:



Belden:,. Referred to as silversmith in Hunter's account books, Newport, 1764. In governor and council records of 1799 as goldsmith. 4
Flynt & Fales:, . 3 Noted in Richardson's Scrapbook as a goldsmith with shop on Long Wharf. House on South-east corner of Thames and Coddington Streets.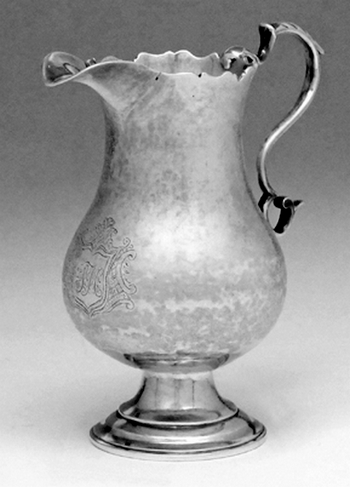 Creamer, 1760
Private Collection
h: 4 1/2"
wt: 4 oz, 7 dwt
Engraved TH in a cartouche.
Obituary printed in the Newport Mercury (Newport RI) on 13 Jun 1812 3

William married Mary Wightman on 17 Apr 1760 in Newport RI. (Mary Wightman was born on 15 May 1736 in Kingston RI and died on 27 Jul 1804 in Walpole NH.)