John Bancroft Root
Born: 6 Apr 1806, Westfield MA

Died: 11 Nov 1883, Galveston TX
General notes:
Merchant
Events in his life were:
He was a partner circa 1851-1863 with John Maxwell Jones and B. R. Davis in Galveston TX as JONES, ROOT & DAVIS. Jones, who had arrived in Galveston in 1839 and established a prosperous jewelry business, had been sent in 1850 as the Texas commisioner to the London Industrial Exhibition. On his return, he formed this partnership which was located in his old shop at No. 8 Strand. The partnership dissolved at the outbreak of war when the port was blockaded and Jones took up an active role in Confederate activities in the state.

He was a partner after 1863 with B. R. Davis in Galveston TX as ROOT & DAVIS. Though primarily furniture dealers, the firm also sold silver flat- and hollowware bought in from manufacturers like WOOD & HUGHES in New York.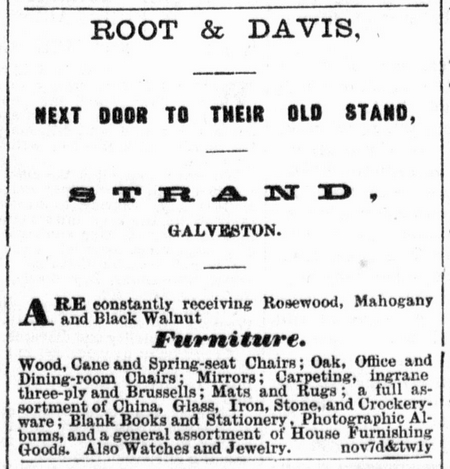 Advertised in the Houston Tri-Weekly Telegraph (Houston TX), 15 Dec 1865,