Richard Bradley
Born: 11 Oct 1787, Guilford CT

Died: 28 Nov 1867, Hartford CT
Cause of his death was Murdered by John Brooks.
General notes:
Silversmith and clockmaker
Events in his life were:
He worked circa 1810-1830 as a silversmith and clockmaker in Hartford CT
Listed in the 1828 city directory at 15 Morgan Street. 3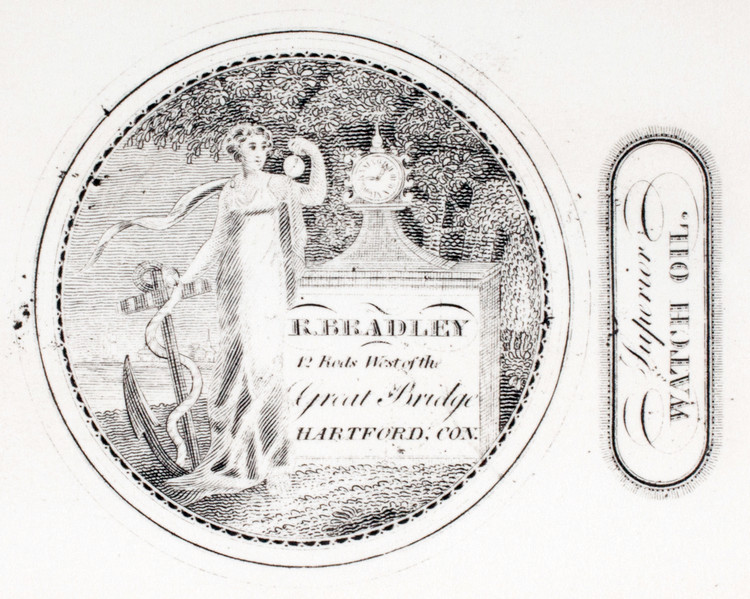 Watchpaper, c 1825
American Antiquarian Society

He was a partner in 1830-1840 with Rufus? Bunce in Hartford CT as BRADLEY & BUNCE.
3
He worked in 1840-1867 as a silversmith and clockmaker in Hartford CT 3
Obituary printed in the The New York Times (New York City NY) on 1 Dec 1867

Richard Bradley, aged 81 years, a jeweler in Hartford, Conn., unmarried, and a quiet, inoffensive man, was murdered on the evening of the 28th inst., by an English thief named John Brooks and a colored man named Alexander Henry, who broke into his store and robbed it of a few articles of cheap jewelry, knocking the owner
down and gagging him with a handkerchief. Both the villains were arrested. Immediately after the arrest, the officers entered the store and, though but a few minutes had elapsed, Mr. Bradley was dead of suffocation.