Joanna Chipman
Born: 5 Jul 1761, Marblehead MA

Marriage (1): William Ward on 14 Nov 1790 in Salem MA
General notes:
Example
Events in her life were: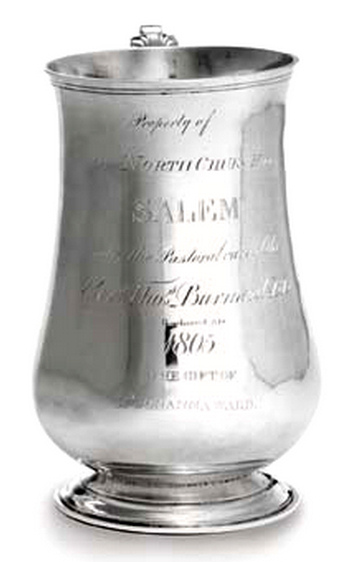 Cann by Ebenezer Noyes Moulton, 1805
Private Collection
h: 8 1/4"
wt: 17 oz 15 dwt
Engraved "Property of the North Church in / Salem under the Pastoral Care of the / Revd. Thos. Barnard DD. / Purchased AD 1805. / The gift of Mrs. Johanna Ward" One of a pair with covers.
Joanna married William Ward on 14 Nov 1790 in Salem MA. (William Ward was born on 28 Dec 1761 in Salem MA and died on 9 May 1827.)