James Edgar Brinsmaid
Born: 22 Jul 1812, Burlington VT

Marriage (1): Persis Pinney Day on 9 Aug 1834 in Burlington VT

Marriage (2): Caroline Hull on 14 Jan 1846 in Burlington VT

Died: 3 Aug 1887, Burlington VT
General notes:
Silversmith
Events in his life were:

He was a partner on 30 Aug 1833-19 Aug 1843 with Amos Pangborn in Burlington VT as PANGBORN & BRINSMAID, working from Pangborn's old shop on Church Street. 16


He was a partner in 1850-1854 with William Bliss Brinsmaid and Chester Hildreth in Burlington VT as BRINSMAID, BROTHER & Co. With shop on Church Street 16
He worked in 1854-1880 as a jeweler in Burlington VT
Listed in the 1867 city directory on Church Street.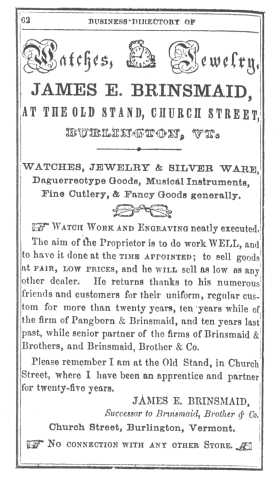 Advertised in the Burlington Business Directory (Burlington VT), After 1854, 16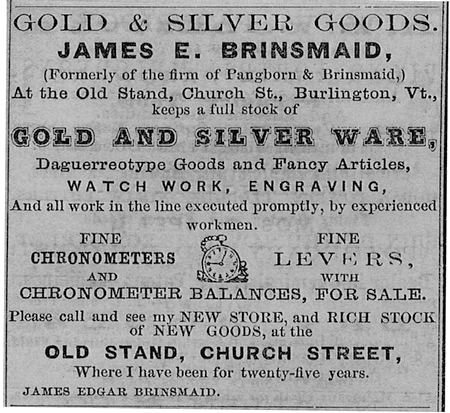 Advertised in the Vermont Directory, 1856,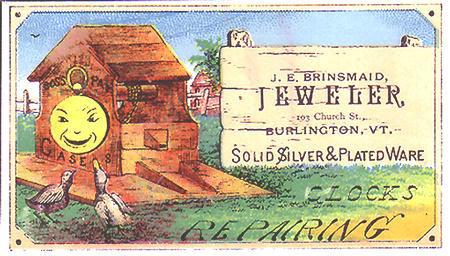 Tradecard, c 1880
Private Collection

James married Persis Pinney Day on 9 Aug 1834 in Burlington VT. (Persis Pinney Day was born on 28 Oct 1816 in Burlington VT and died on 11 Jan 1845.)
James next married Caroline Hull on 14 Jan 1846 in Burlington VT.